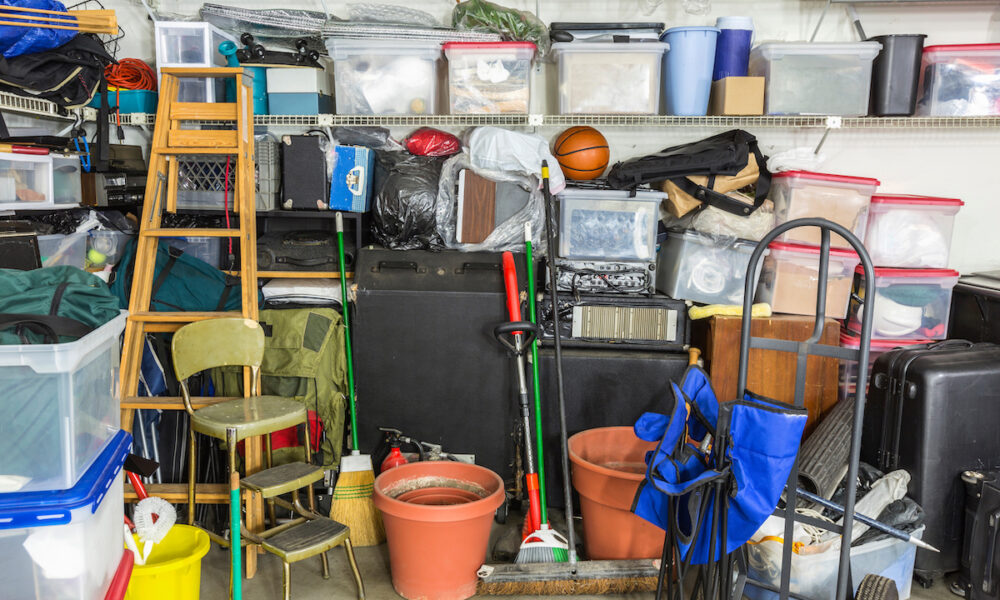 When it comes to your home's safety, you don't want to overlook your garage. The garage is often a high-traffic area that poses many potential hazards, from slip and fall accidents on slick flooring to tripping on cluttered items. The good news is that we have some garage safety tips to keep your space accident-free.
Properly installed garage flooring and effective storage solutions can help minimize these risks and keep you and your loved ones safe.
But where do you start when it comes to garage safety? Let's start with the garage door, which is a major source of injuries and accidents in the home.


Garage Door Safety Tips and Considerations

In terms of garage safety, garage doors are one of the most important focal points. In fact, there are 20,000-30,000 garage door injuries each year. Garage doors are an important safety consideration for several reasons. They are heavy and can cause severe injury or even death if they fall on someone.
Furthermore, they are one of the largest moving parts in a home and can cause damage to property or people if they malfunction. When you forego garage safety in terms of garage doors, you might run into some of the following problems:

Crush injuries: Garage doors are heavy and can cause severe crush injuries if they fall on someone. To avoid this, make sure the door is properly balanced and maintained, and never attempt to adjust or repair the door yourself.
Pinch injuries: Garage doors have many moving parts, including rollers, hinges, and springs. These can cause pinch injuries if fingers or other body parts get caught. To avoid this, keep fingers and other body parts clear of the door when it's moving, and teach children not to play with or around the garage door.
Entanglement injuries: Loose clothing, jewelry, or long hair can become entangled in the garage door mechanism, causing serious injuries. To avoid this, stay back from the door while it's in operation.
Electrical shock: Garage door openers use electricity, and improper installation or maintenance can lead to electrical shock. Always hire a professional to install or repair the garage door opener, and make sure to follow all safety instructions and warnings.
Regular maintenance and safety checks on your garage door can help prevent accidents and keep you and your family safe. If you notice any issues or problems with your garage door, it's important to address them immediately.
Stay Safe with New Garage Flooring

Do you consider your garage flooring when it comes to garage safety tips? If not, it's time to start!

Garage flooring is an important safety consideration because it can help prevent slips and falls in a potentially hazardous environment. A well-designed garage floor can provide good traction, even when wet or oily. This is key to reducing the risk of accidents.
Furthermore, garage flooring can protect against chemical spills and stains, making it easier to clean and maintain a safe work area. By investing in high-quality garage flooring, you can ensure a safer, more comfortable and functional space for yourself and others.
Garage Safety Tips for Choosing the Right Floor:
Look for a slip-resistant surface that provides good traction
Choose a durable material that can handle heavy loads without cracking or chipping.
Consider a flooring option that is easy to clean and maintain, to prevent the buildup of dirt and debris that can cause slips and falls.
Opt for a material that can withstand exposure to chemicals and stains, such as oil or gasoline.

Why is Polyaspartic Flooring Essential for Garage Safety?

Polyaspartic flooring is slip-resistant, providing excellent traction even when wet or oily.
It is incredibly durable and can handle heavy loads without cracking or chipping, making it a safe choice for a garage environment.
Polyaspartic is resistant to chemicals and stains, making it easy to clean and maintain a safe work area.
It also dries quickly, so there is less risk of slips and falls during the installation process.

Overall, if you want a safe and durable garage flooring option, polyaspartic flooring is the way to go.
How to Maintain Your Garage Floor to Prevent Accidents


No matter what kind of garage flooring you choose, these garage safety tips can help prevent accidents in the future:

Clean up spills immediately to prevent slips and falls. This is especially important for spills of oil or other chemicals.
Sweep regularly to remove dirt and debris that can cause slips.
Fix any cracks or damage in the flooring promptly, as these can create tripping hazards.
Consider applying a non-slip coating or treatment to the surface of the floor, to provide additional traction and prevent slips.
Use caution when moving heavy equipment or vehicles on the floor, and make sure to follow any weight restrictions or load-bearing guidelines provided by the flooring manufacturer.
Avoid using abrasive cleaning products or tools that can scratch or damage the surface of the floor.
If your garage is also used as a workspace, make sure to keep the area organized and free of clutter, to prevent trips and falls.

By following these recommendations, you can help maintain a safe and accident-free garage flooring environment.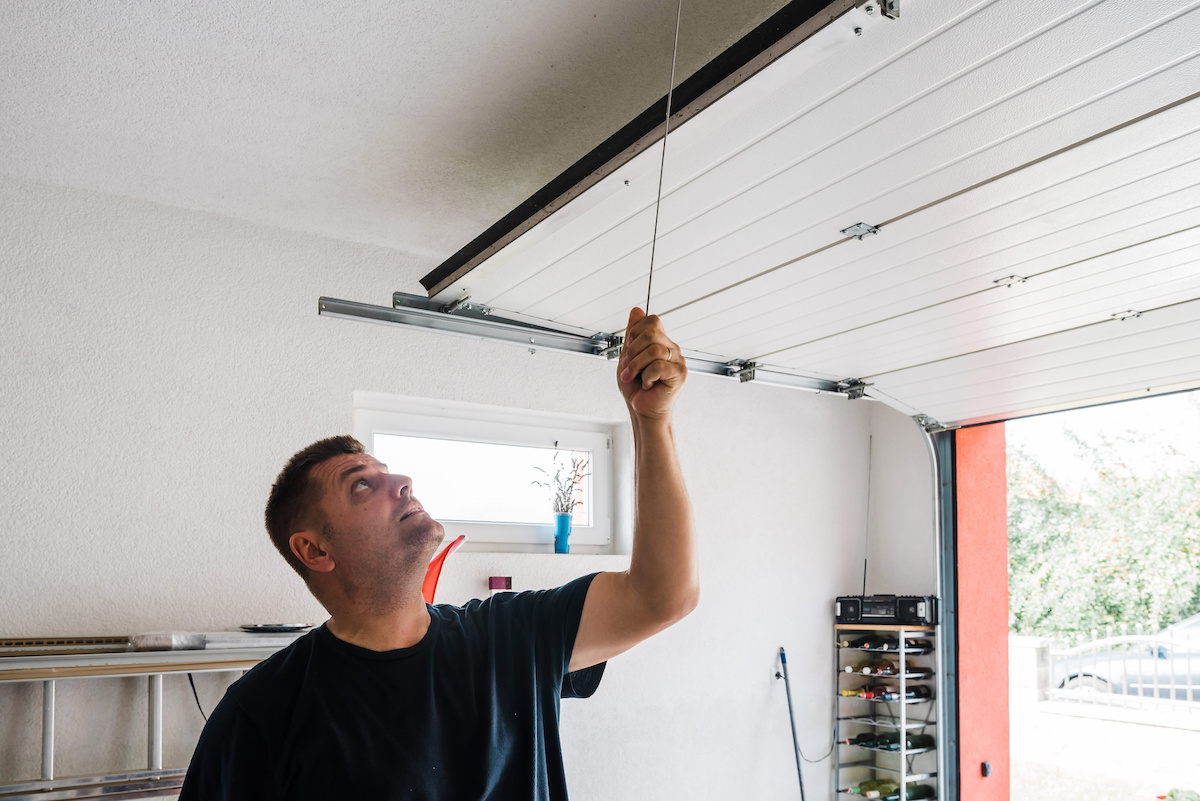 Garage Storage Safety Tips
Clutter and disorganization in a garage can create tripping hazards, making it difficult to move around safely. Improperly stored items, especially heavy or sharp tools and equipment, can pose a serious risk of injury if they fall or are knocked over.
Meanwhile proper garage storage can help prevent fires by keeping flammable materials away from potential ignition sources, such as water heaters or electrical outlets. Investing in safe and organized garage storage is crucial for maintaining a hazard-free environment.
How to Choose the Right Garage Storage Options for Safety and Convenience:
Are you wondering how to choose the right garage storage solutions for safety? Consider the following:

Organize items to prevent tripping hazards. Make sure there is a clear pathway through the garage and that items are stored in a logical and accessible manner.
Store heavy items securely, either on sturdy shelves or in cabinets that are rated for the weight and size of the items being stored.
Consider using wall-mounted or overhead storage solutions to keep items off the ground and reduce the risk of tripping.
Label storage containers clearly, so that you can easily find what you need and avoid having to move heavy items unnecessarily.
Avoid stacking items too high, as this can create an unstable pile that is more likely to topple over.
Check shelves and cabinets regularly for damage or instability, and make any necessary repairs or adjustments promptly.
Use caution when handling and storing flammable or hazardous materials, and always follow recommended safety guidelines and local regulations.
Additional Garage Safety Tips
The garage is often home to heavy equipment, tools, and potentially hazardous materials, making it a high-risk area for accidents and injuries. By investing in safe garage flooring and storage solutions, organizing the space properly, and taking precautions when handling and storing hazardous materials, you can help prevent accidents and maintain a safe and functional workspace. Remember, safety should always be the top priority when it comes to your garage.
Quick List of Garage Safety Tips
Ensure that your garage is well-lit with ample lighting fixtures. If necessary, install additional lighting to eliminate any dark areas in your garage.
Always keep your garage door opener out of reach of children, especially those who are too young to understand the potential dangers.
Make sure that your garage floor is clean and free of any debris or clutter that may cause you to trip and fall.
Store chemicals and other hazardous materials, such as gasoline and paint, in a secure location away from potential sources of ignition. If possible, lock them up or keep them in a cabinet that is specifically designed for hazardous materials.
Avoid smoking in the garage or using any open flames, such as candles or matches, as they can ignite flammable vapors and cause a fire.
If you have any power tools or equipment in the garage, make sure that they are properly grounded and that their cords are in good condition. Do not use any equipment with frayed cords or damaged parts.
Keep a fire extinguisher in your garage and make sure that it is easily accessible in case of an emergency.
If you have a gas-powered vehicle or appliance in your garage, ensure that the exhaust system is properly vented to prevent carbon monoxide poisoning.
Consider installing a carbon monoxide detector in your garage to alert you if there are dangerous levels of the gas present.
Remember, taking these simple steps can help ensure that your garage is a safe and secure place for you and your family.
Get New Garage Flooring and Garage Storage from The Smarter Garage
Tampa Bay homeowners, don't wait until an accident happens in your garage to prioritize safety! Take action today by choosing the right flooring and storage solutions. Your garage should be a functional and hazard-free space. Investing in safety measures now can save you from costly and potentially dangerous accidents down the road.
Contact us today to learn more about how we can help you create a safer garage environment for you and your family.