Are you looking to upgrade your garage flooring in Zephyrhills, FL? There are plenty of reasons to invest in a new garage flooring option for your home. But what material makes the most sense for you? When it comes to garage flooring in Zephyrhills, Florida, polyaspartic is one of the most sought after options for homeowners throughout the Tampa Bay area.
If you are considering polyaspartic for your garage floor, you're in for a treat. There are plenty of reasons to pick this popular floor style for your own home. When you work with The Smarter Garage, you'll get the following benefits with polyaspartic.
Exceptional Durability
No one wants to deal with garage flooring with dings, dents, and scratches. Luckily, polyaspartic is incredibly durable. This flooring option does not easily damage, whether it's from normal wear and tear or dropping heavy tools.
Without dents and scratches to deal with, you're bound to save time and money. This is because you don't need to hassle with repairing this material. Never fret over cosmetic blemishes or damage. Polyaspartic will look beautiful in your garage for many years to come.
Array of Exciting Color Options
Who wants to have a ho-hum garage floor? If you like to showcase character in your space, polyaspartic is a top choice for you. When you work with The Smarter Garage, you'll fall in love with our color options for your garage floor.
No matter the color you have in mind, there is an option for every taste. Choose from assorted pre-selected colors that streamline the look of your garage. You can also create your own color combination and showcase your creativity. Consider designing a flooring style that coordinates with your favorite sports team.
This company does amazing work. My parents had floor coating done by them a few years ago and referred us to them. They did our garage floor and our patio and it looks amazing. Junior and his crew did a amazing job. Will definitely recommend them!!!

Tina M.
---
Easy to Clean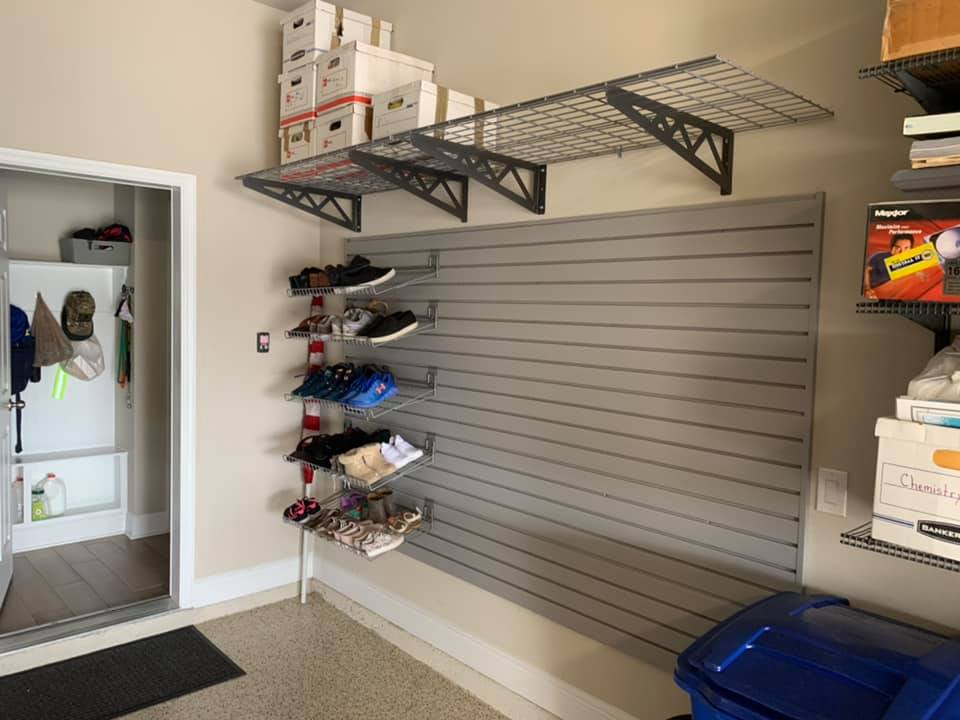 When you want a clean and pristine garage, you aren't going to achieve this look with concrete or other materials. Cleanliness is one area where polyaspartic flooring truly shines.
That's because this garage floor material does not easily stain or become discolored. Even when you use your garage as a workshop, you won't have any worries about keeping your space beautiful.
When you quickly clean up spills and stains, you'll nearly never know that you spilled anything at all. That's because polyaspartic is nearly stain resistant. It's not porous, so it won't hold oil stains like you'll find with concrete floors.
How easy is it to clean polyaspartic? Just grab a mop, bucket and water some mild cleaner. The Smarter Garage can point you in the right direction when it comes to the precise cleaner to use. Just ask us!
Better for Your Health
Some homeowners may choose epoxy flooring over polyaspartic for their garage flooring in Zephyrhills, FL. If you choose to go this route, know that epoxy flooring is known for its potentially harmful respiratory problems.
For example, inhaling epoxy fumes can aggravate asthma. It can also result in issues such as irritation of your throat. You'll also want to beware of touching epoxy before it cures since it is a corrosive flooring. It may cause chemical burns.
Quick to Install and Cure
What homeowner wants to wait days to enjoy their new garage flooring upgrade? Epoxy flooring can take several days to fully cure. This means that you need to find a place to store your belongings so your garage remains empty.
If you don't have this luxury, we have good news for you. Polyaspartic cures quite quickly. You can typically walk on it the same day that it's installed!
When you work with garage flooring pros like The Smarter Garage, you'll find how easy it is to install and love polyaspartic. We are the go-to garage flooring gurus in the Tampa Bay area. If you are a Zephyrhills, FL homeowner in search of new garage flooring, contact us today to get started.