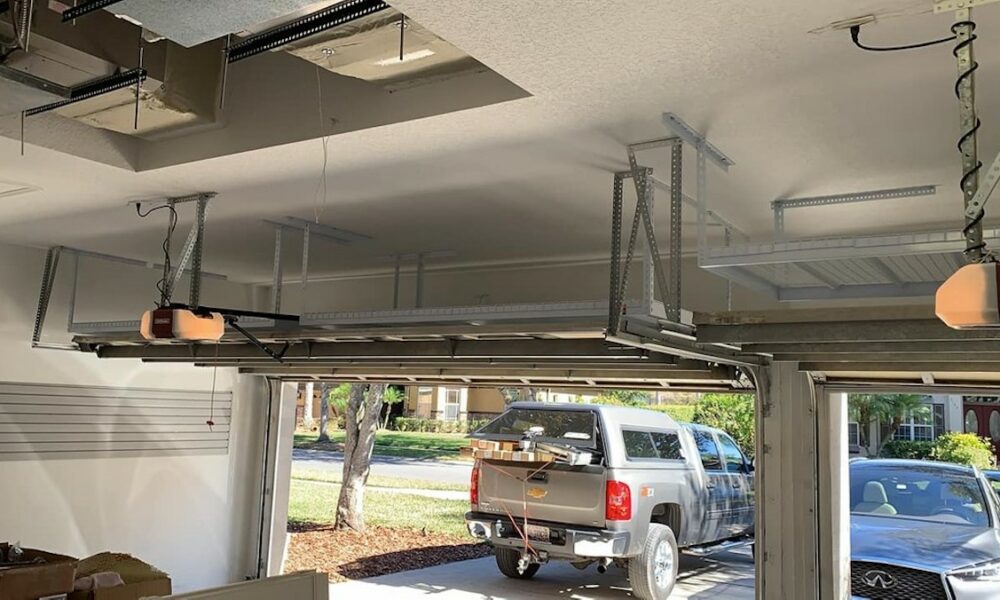 Your garage is an important yet overlooked part of your home. You might use it as a workshop or a place to store holiday decorations. Either way, most garages need some form of storage. Overhead garage storage is a great way to maximize your storage space in the garage. It lets you store items that may not fit on shelves or in cabinets.
If you are considering this garage storage solution for your space, read on to learn about the best benefits of overhead storage.
What is Overhead Garage Storage?
What makes this storage solution different than other types of garage storage? Overhead garage storage is an easy and efficient way to maximize storage space in your garage. It can be used to store items that do not fit on shelves or in standard cabinets, such as ladders, kayaks, and other bulky items. It also helps to keep your garage organized, as items are securely stored in the overhead space.
This helps to create more space in your garage, as the items can be easily accessed without taking up valuable floor space. Overhead garage storage is a great choice for anyone looking to get the most out of their garage storage space
Signs that You Might Need Overhead Storage in Your Garage
If you find yourself struggling to move around your garage due to clutter and lack of space, it may be time to consider overhead storage. Signs that you need overhead storage include having little to no floor space, having to move items to access other items, or frequently navigating around obstacles to get to what you need.
Additionally, if you find yourself constantly tripping over items or having difficulty finding items due to disorganization, overhead storage can provide a practical solution to maximize space and reduce clutter.
What are the Types of Custom Overhead Garage Storage?
There are several mounting types of overhead garage storage, each with its own advantages. Ceiling-mounted storage is a common type of overhead garage storage that is ideal for larger items like bicycles or kayaks. Wall-mounted storage is another popular option that is great for smaller items like tools or sporting equipment.
Some overhead garage storage systems even use a combination of ceiling and wall mounts to maximize storage space. No matter what mounting type you choose, overhead garage storage can help you reclaim valuable floor space in your garage and keep your belongings safe and organized.
Preparing for Custom Overhead Garage Storage Installation
Preparing for custom overhead garage storage installation can seem like a daunting task. But with the right approach, it can be a smooth process. Here is a step-by-step guide on how to prepare for custom overhead garage storage installation:
Clear out the garage: Before installation day, remove all items from the garage and create a clear workspace for the installers. This will make the installation process easier and faster.
Sort and organize your items: Take this opportunity to sort through your items and organize them. Determine which items you want to keep, donate, or discard. This will make it easier to decide how much storage you need and what type of storage system will work best for your needs.
Prepare the area: Clean the garage floor and walls where the storage system will be installed. This will ensure a clean and smooth installation process.
Check for any obstacles: Make sure to check for any obstacles, such as pipes or electrical wires, that could interfere with the installation process. If you find any, make sure to notify the installers beforehand.
Choose the right storage system: Choose a storage system that meets your needs, fits your garage dimensions, and is within your budget. Custom overhead garage storage systems are a great option since they are for your specific needs and preferences.
When you work with The Smarter Garage, you can enjoy overhead storage units in your garage. However, there are many other storage options to consider. We provide an assortment of garage storage solutions that make your garage a more efficient and stylish place to work or play.
Other Garage Storage Solutions to Consider
Garage storage can be a challenge for many homeowners. However, there are plenty of options available to help you keep your garage organized and clutter-free. Two popular options for garage storage are garage cabinets and slatwall systems.
What's Great About Garage Cabinets?
Garage cabinets are a great way to keep your tools, equipment, and other belongings organized and out of the way. They come in a variety of sizes and styles, allowing you to choose the perfect fit for your garage.
Increases storage space: Garage cabinets provide additional storage space to help organize and declutter your garage.
Improves organization: With designated spaces for tools, equipment, and other items, garage cabinets make it easier to find what you need when you need it.
Enhances safety: By keeping hazardous materials and tools locked away, garage cabinets can help improve safety in the garage.
Increased home value: Installing garage cabinets can improve the overall look and functionality of your garage, which can add value to your home.
Protection from the elements: Garage cabinets provide protection from dust, moisture, and other elements that can damage equipment and tools.
Customizable options: Garage cabinets come in a variety of sizes, styles, and materials, which means you can choose the best option that meets your storage needs and personal style preferences.
Increases durability: Quality garage cabinets are often made of sturdy materials. These materials can withstand the wear and tear of regular use.
Better accessibility: Having items organized and within reach in garage cabinets can save time and make it easier to complete projects.
Reduces stress: By eliminating clutter and increasing organization, garage cabinets can help reduce stress and create a more relaxing environment in the garage.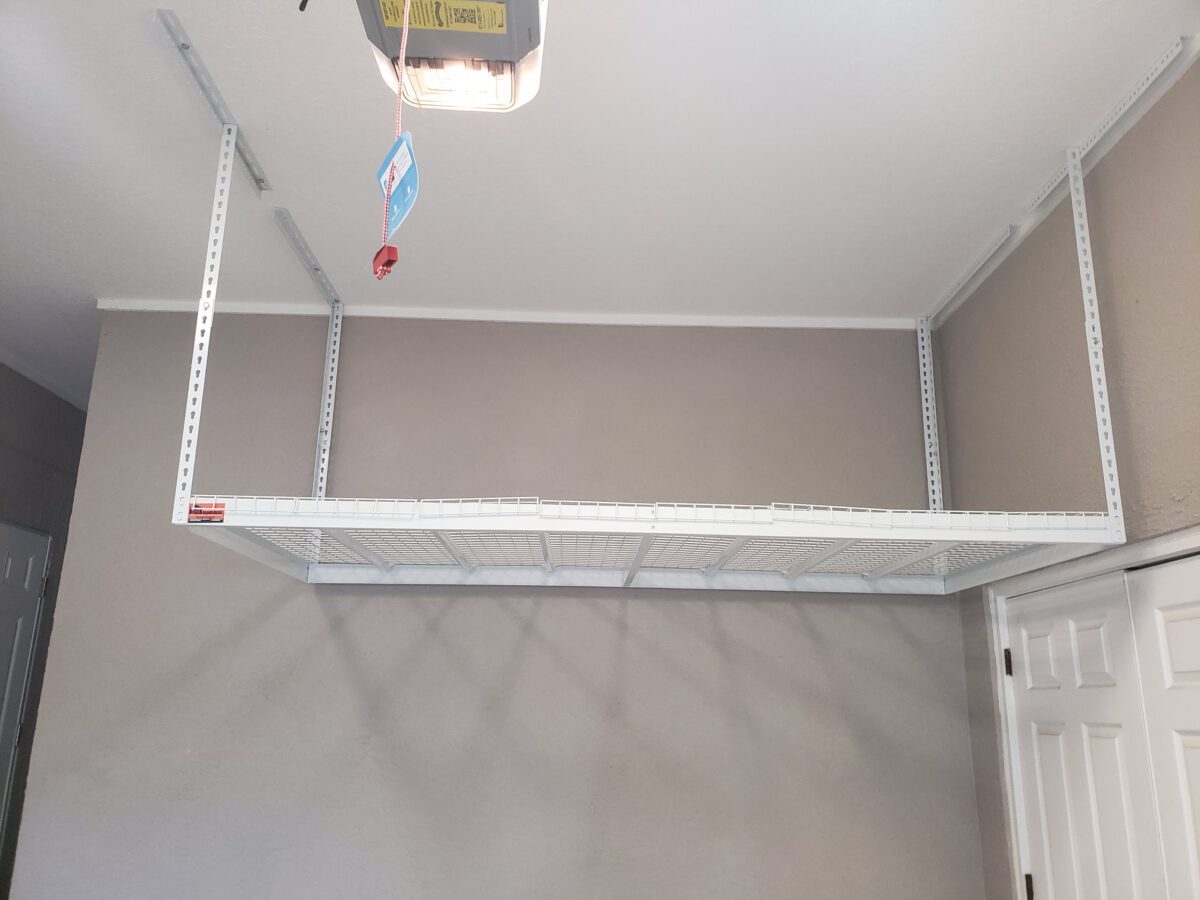 Why Should You Choose Garage Slatwall Systems?
Garage slatwall systems are a popular storage solution for garages. Slatwall panels are installed on the walls of the garage and provide an organizational system that allows for the easy storage and retrieval of tools, equipment, and other items. They are made of high-quality PVC or MDF materials, which are durable and able to withstand the weight of heavy objects.
Slatwall Systems Storage Ideas
Are you wondering what you can store on your new slatwall system? Consider the following:
Hand tools: Wrenches, screwdrivers, pliers, hammers, and other small hand tools can go on hookd in baskets or bins.
Power tools: Drills, saws, sanders, and other power tools can go on shelves or hung on hooks with the appropriate hardware.
Sports equipment: Bicycles, golf clubs, tennis rackets, and other sports equipment work well with slatwall systems.
Gardening supplies: Shovels, rakes, hoes, and other gardening tools are great for a slatwall setup.
Automotive supplies: Oil cans, funnels, car wash supplies, and other automotive supplies are ideal for slatwalls.
Cleaning supplies: Brooms, mops, dustpans, and other cleaning supplies can go in baskets and bins.
Paint supplies: Paint cans, brushes, rollers, and other painting supplies can be stored on shelves or hung on hooks.
Outdoor gear: Camping equipment, fishing gear, and other outdoor gear can be hung on hooks or stored in baskets or racks.
Miscellaneous items: Extension cords, screws, nails, and other miscellaneous items can be stored in bins or baskets.
Get Innovative Garage Storage Solutions with The Smarter Garage
Take the flow and function of your garage to the next level with The Smarter Garage. The Smarter Garage is an excellent partner for homeowners who want to transform their garages into fully functional and organized spaces.
We provide a wide range of garage storage solutions, including garage cabinets, slatwall systems, and overhead storage. Our team of experts will work with you to create a customized storage plan that meets your unique needs and budget. We use high-quality materials and innovative designs to ensure that your garage storage system is both durable and stylish.
Working with The Smarter Garage means that you'll have a well-organized and functional garage that adds value to your home and simplifies your life. Contact us today to get started.