Transform your greater Tampa Bay garage with new garage flooring—the smarter way!
Homeowners choose our polyaspartic flooring to transform their dirty, greasy, chipped or cracked concrete into a sleek, new floor to complement their clean and organized garage. With nearly limitless color options to choose from, our garage floor coating will take your concrete from dingy to delightful.
It's easy to fall in love with our garage flooring, custom-made for each individual homeowner. We stock the most attractive and popular flake combinations—check out our gallery below—but first a word or two from our happy customers!
Beautiful work from absolutely friendly staff! We love our garage floor! It was installed on time with excellent results. I would highly recommend The Smarter Garage!

Rob J.
This company does amazing work. My parents had floor coating done by them a few years ago and referred us to them. They did our garage floor and our patio and it looks amazing. Junior and his crew did a amazing job. Will definitely recommend them!!!

Tina M.
Incredible job! Very thorough… extremely punctual… And probably the only vendor I've ever used that has taken the time to absolutely clean all the cabinets they installed [and] vacuum out the entire garage… And really take their time to leave the place as if they were never here other than the fantastic garage floors and cabinets they install… Everything is centered everything is done to tremendous detail and these guys know exactly what they are doing… That is plainly obvious and I would recommend them to anyone.

Daniel S.
Called these guys for a garage remodel. It was a great experience from the day they came out to do the estimate to the completion of the project. They installed the smartchip floor system, cabinets and an overhead rack. The garage is perfect now, it even looks bigger than before! Cabinets are very roomy with a work station in the middle with drawers. We called 3 different companies and they were the best price, and their product is the best quality. Very happy with their work.

Vilma M.
Jeff, Todd and team did a fantastic job on flooring and a fairly large slatwall installation. Jeff was very helpful throughout the process answering questions and worked with me on slatwall design. Highly recommend and would use again in the future.
---
Our Most Popular Garage Floor Colors
Ready for showroom quality flooring? You'll find nearly any color combination imaginable with our polyaspartic garage floor finishes.
This Smart garage flooring will breathe new life into your entire garage. Find options ranging from greystone to eclectic, traditional, and everything in between. Some color combinations from our Insignia line match popular colors from sports teams! Everyone says that choosing the flake color combinations of their new garage flooring is the most exciting part of the process.
What Makes Polyaspartic Garage Flooring the Best?
Polyaspartic garage flooring lasts up to four times longer than traditional epoxy floors and it's incredibly durable, making it the preferred garage flooring option in the greater Tampa Bay area. These polyurea compounds are superior to other garage floorings, including epoxy.
Here are more important benefits to consider:
Industrial grade garage flooring.
Stain-resistant and easy to clean. Polyaspartic flooring provides exceptional resistance to oil, grease, and gas.
Extremely low in VOCs (volatile organic compounds) and can be used to comply with ultra-green applications (LEED).
Highly customizable color options, plus inspirational done-for-you color combos
Durable and very low maintenance.
---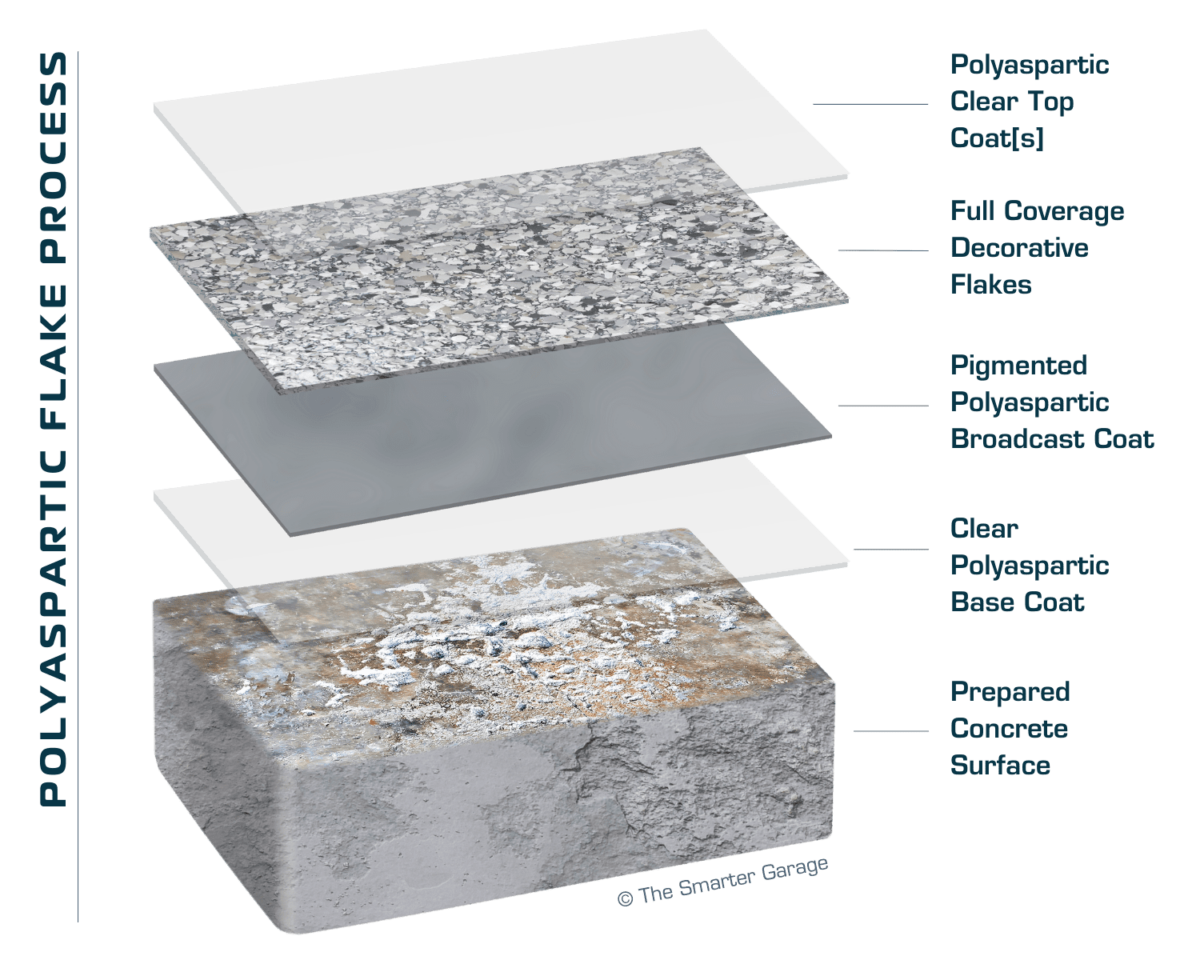 Durability & Design
The Smarter Garage flooring products are used to enhance the appearance and texture qualities of high-performance flooring systems while maintaining superior chemical and abrasion resistance.
Superior Protection
High-performance flooring systems create seamless surfaces that are extremely durable and easy to maintain. The non-porous surface makes spills easy to clean and provides superior protection against the growth of mold and bacteria compared to tile and grout options.
Benefits of Polyaspartic Garage Flooring
Are you wondering why you should choose polyaspartic garage flooring above all other options? We're glad that you asked! There is a variety of reasons why homeowners just like you prefer polyaspartic garage flooring above all other options, including:
It is cost-effective. With easy application and minimal upkeep, owners save money on their garage floor installation and avoid costly maintenance.
Low requirements for upkeep. Regular sweeping, washing and occasional re-application of polyaspartic cleaner are the only things owners need to do to ensure a beautiful, marvelous-looking floor.
It is anti-static. Polyaspartic is effective at keeping garage floors dust-free, which helps owners avoid dust-related illnesses and allergies.
Your new flooring is slip resistant, making your garage both safe and attractive.
Polyaspartic is easier to clean than epoxy. Unlike epoxy, which has a tendency to stain easily, polyaspartic is virtually stain-proof and easy to clean.
With its smooth surface, you will be able to clean your garage floor using just a mop and a bucket of warm water. Because it is so easy to clean, you'll find your garage as a pleasant place to work on projects.
Extremely low in VOCs (volatile organic compounds) and can be used to comply with ultra-green applications (LEED).
---
Limited Lifetime Warranty
We ensure your satisfaction by including a lifetime warranty on our Polyaspartic Floor Coatings which covers defects of material and craftsmanship. Best of all, the lifetime warranty applies for the entire duration that you live in your home, so there's no worrying about your lifetime warranty ever expiring!
Polyaspartic Garage Floor Warranty
Defects Covered Under Warranty
Abnormal yellowing, fading or discoloration of the clear top coat stemming from standard use
Peeling, chipping, flaking or delamination of the clear top coat under normal use
Material and labor costs involved with repairs covered under the warranty
Items Not Covered Under Warranty
Damages caused by physical abuse, vandalism, mechanical impact damage, exposure to heat or flames, exposure to solvents and acids, windstorms, lightning, nails, screws, plant life or acts of God
Damages or delamination caused by a hydrostatic water problem or moisture vapor permeating the concrete slab or exposure to chemicals such as battery acid of brake fluid
Delamination caused by improper substrate condition or an internal failure of the substrate
Damages caused by gouging and other extensive damage beyond the scope and protections of the system applied, including impact and abrasion other than that for which the system was designed
Damages caused by cracks in the substrate prior to or occurring after the installation of the floor coating that appear from ground shift and expansion/contraction of the substrate
Damage resulting from the modification of the concrete slab
Discoloration caused by liquids or rust
Stem wall or knee wall applications
Exterior surfaces not covered under physical structure
Damages caused by dragging items across the finished surface
Damages resulting from moving items including vehicles back onto the surface before the floor has cured
Warranty Limitations
THE SMARTER GARAGE LLC DOES NOT WARRANT THAT THE COATING SYSTEM WILL CREATE A SLIP RESISTANT SURFACE. THE SURFACE MAY BECOME SLIPPERY UNDER CERTAIN CONDITIONS INCLUDING BUT NOT LIMITED TO EXPOSURE TO WET, OILY OR GREASY CONDITIONS. THE SMARTER GARAGE LLC SHALL NOT BE RESPONSIBLE FOR INJURY INCURRED IN A SLIP, FALL OR TRIPPING OCCURRENCE. THE PROPERTY OWNER IS RESPONSIBLE TO PROVIDE FOR THEIR OWN SAFETY AND THE SAFETY OF THEIR GUESTS.
WARRANTY COVERAGE DOES NOT AUTOMATICALLY INCLUDE REMOVAL OR RE-COATING OF THE ENTIRE FLOOR UNLESS SPOT REPAIR IS DEEMED INSUFFICIENT AS DETERMINED BY A REPRESENTATION OF THE SMARTER GARAGE LLC. AREAS REPAIRED UNDER WARRANTY COULD VARY IN COLOR AND TEXTURE AS COMPARED TO THE ORIGINAL INSTALLATION.
Experience Garage Flooring the Smart Way
Polyaspartic flooring from The Smarter Garage is the durable, stain-resistant, and customizable garage floor that everyone loves! We invite greater Tampa Bay homeowners to contact us today to discuss our custom garage flooring options.