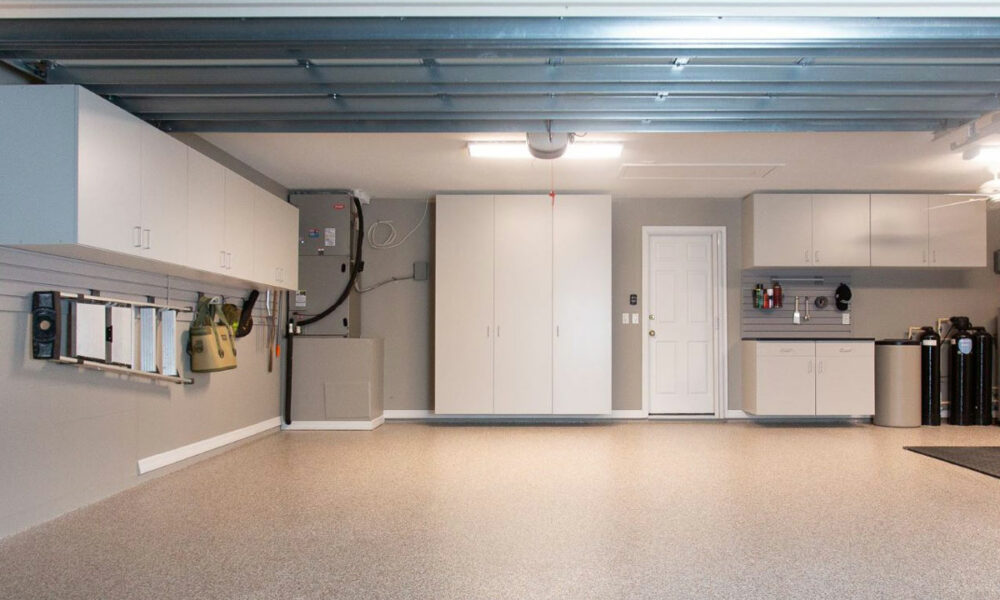 Our garage often becomes the catch-all space for the items that we don't regularly use. Before we know it, we are tripping over a maze of items stacked haphazardly, desperately trying to create some semblance of order. However, it doesn't have to be this way! By adopting some clever garage storage hacks, you can efficiently utilize your garage space. Below are some tips from The Smarter Garage to get you started.
Garage Storage Hacks: Cabinets
Cabinets are a mainstay in any garage organization strategy. Here's how you can make the most out of them:
Assign Categories: Consider designating each cabinet or shelf for a particular category. This could be anything from holiday decorations to gardening tools. Using labels will help you quickly locate items and maintain order.
Use Tall Cabinets: Maximize vertical space by opting for tall cabinets. They provide ample storage and are ideal for storing items you want to keep out of reach from children.
Install Cabinet Lights: Add battery-powered lights inside your cabinets. It makes locating items easier, especially in dimly-lit garages.
What to Look for When Buying Garage Cabinets
If garage cabinets sound like the right choice for you, know that some options are better than others. When it comes to organizing your garage with cabinets, not all cabinets are created equal. Here are some key aspects to consider when selecting the right cabinets for your garage:
Material: The material of the cabinet greatly affects its durability. Metal cabinets are sturdy and long-lasting, perfect for heavy-duty storage.
Size: Consider the size of the cabinets in relation to your garage space. Remember, the goal is to maximize storage without making your garage feel cramped. Measure your space and plan accordingly. When you work with The Smarter Garage, you can get garage cabinets that cater specifically to your garage space.
Adjustable Shelves: Cabinets with adjustable shelving offer great flexibility. You can customize the space inside your cabinets to accommodate items of varying sizes.
Locking Mechanism: If you're planning to store valuable or dangerous items in your garage cabinets, ensure they come with a secure locking mechanism.
Ease of Installation: Some cabinets may require professional installation, while others can be set up with basic DIY skills. Choose according to your comfort level and budget.
Load Capacity: Consider what items you plan to store. Heavier items will require cabinets with a high load capacity.
Aesthetics: While functionality is key, aesthetics also play a part. Choose cabinets that match your garage's overall decor. The Smarter Garage offers streamlined garage cabinets that makes your space feel more modern.
Remember, the best garage cabinets will marry functionality with durability to maximize your space.
Garage Storage Hacks: Hooks
Hooks are highly versatile and can hold a variety of items. Let's explore some inventive ways to use hooks in your garage:
Bicycle Storage: By simply installing large, sturdy hooks on your garage ceiling or wall, you can hang bicycles, freeing up considerable floor space.
Garden Tools: Long-handled garden tools can be conveniently hung from hooks. This also prevents the tools from getting damaged or becoming a tripping hazard.
Ladders and Hoses: Bulky items like ladders and hoses can easily hang on heavy-duty hooks.
While hooks on their own can serve you well, they're even better when they are on a slatwall system. Speaking of slatwalls, this is another essential garage storage hack to consider.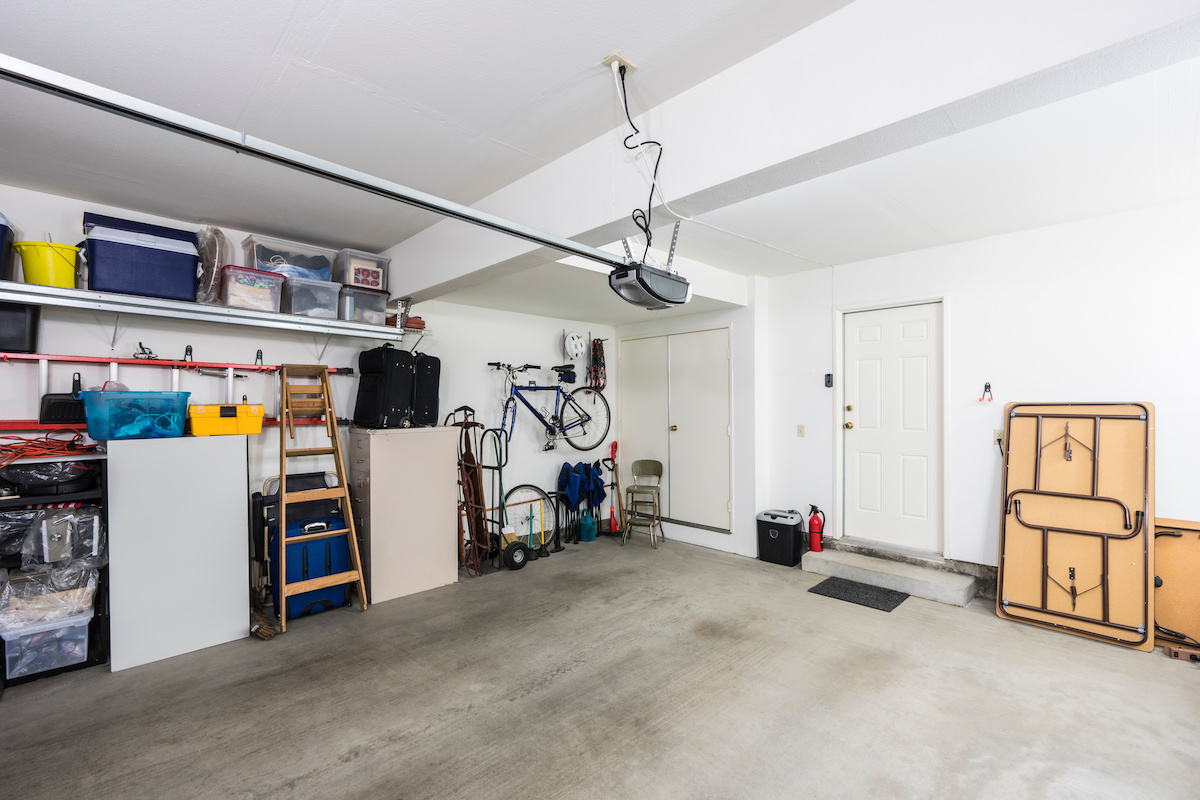 Slatwall Systems: The Ultimate Garage Storage Hack
When it comes to garage storage hacks, the Slatwall system is a game changer. Here's why:
Versatility: Slatwall systems offer unmatched flexibility. With a variety of hooks, bins, and shelves that easily attach to the slats, you can custom design your wall storage.
Space-Saving: Slatwall systems effectively utilize wall space that otherwise goes unused. It's especially useful for small garages where floor space is limited.
Accessibility: Items stored on a Slatwall system are easily accessible. This makes it ideal for items you use regularly. Simply grab what you need and get on your way!
Durability: Made from strong materials like PVC or metal, Slatwall systems are durable and can hold heavy items.
What to Look for When Buying Overhead Garage Storage
Overhead storage is a great way to utilize the often neglected vertical space in your garage. However, it's important to select the right overhead storage solution for your needs. Here are some key considerations:
Weight Capacity: This is the most critical factor. You need to ensure that the overhead storage system can safely support the weight of the items you plan to store.
Size: Check the dimensions of the overhead storage unit. It should not only fit in your garage but also accommodate your storage items. Additionally, consider the height of your garage; there should be enough clearance to avoid any safety issues.
Accessibility: While overhead storage is great for seldom-used items, you still want to be able to access these items when necessary. Look for systems that come with a pulley or a hydraulic lift for easy accessibility.
Durability: Your overhead storage should be robust and durable. Look for materials like heavy-duty steel for longevity and strength.
Ease of Installation: While some overhead storage systems are relatively easy to install with basic DIY skills, others might require professional help. The Smarter Garage can install slatwalls that make garage storage a breeze.
Adjustability: Some overhead storage systems offer adjustable heights, which is a useful feature if you're planning to store items of various sizes.
Investing in the right overhead storage can free up a significant amount of floor space in your garage. It's a fantastic garage storage hack that can truly transform your space. Keep these factors in mind, and you'll have a well-organized and efficient garage in no time.
Get the Best Garage Storage Hacks from The Smarter Garage
Did you know that 1 in 4 people think that their garage is too cluttered? Despite being one of the largest and most distinctive spaces in our homes, for many, it's barely functional.
Now, imagine your ideal garage environment. What comes to mind? Those who opt for The Smarter Garage foresee a meticulously organized, highly efficient garage that provides ample space for both work and leisure. It's time to embrace a smarter strategy of garage organization. The Smarter Garage is happy to help! Contact us for custom storage solutions that aren't available in big box stores.