The Smarter

Slatwall Systems

The professionals from The Smarter Garage have many ideas on how you can utilize the space in your garage in the most practical fashions. One organizational system that we promote is the Slatwall System. If you find that you are discombobulated with multiple tools, gadgets, and other small, yet useful, items in your garage area, then a Slatwall System may be the best option for you. We offer a full line of slatwall designs, so we can work with you to create the best possible solution for your garage space.
What Is a Slatwall System?
A slatwall is created with a material that is made with horizontal grooves in it, known as the slats. Within the slats, you can arrange hooks, tool boxes of varying sizes, shelves, baskets, and other organizational equipment, where you can then store tools, nails, flashlights, paints, plants, and anything else that you wish to store in your garage.
Once the slatwall is in place, you can easily see and access all of the garage equipment that makes your life easier and more fulfilling. Most people are amazed at how much an organized slatwall can improve the usefulness of their garage space. The professional team from The Smarter Garage has a variety of Slatwall Systems that will enhance your garage and your ability to locate things easily and quickly.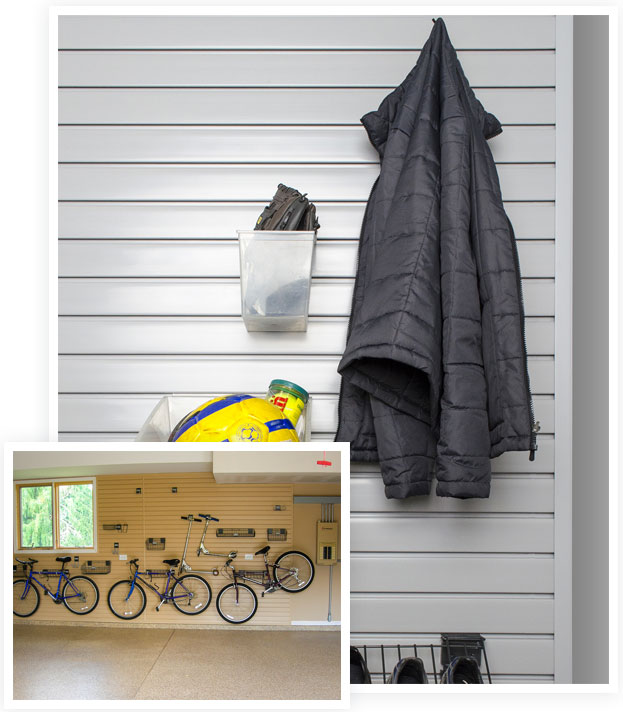 Reasons to Install a Slatwall System
Additionally, a professionally installed Slatwall System will not only increase the value of your home, but it will also increase the value of your everyday living. Once the slatwall is installed, and you decide which attachments are best for your personal use, then you can easily function in your garage, and in your home. You will be able to clear up other spaces within your garage, too, so you will have more room to organize various sections of your garage and your garage floor, as well.
Let Us Install Your Customizable Slatwall System
If you would like to learn more about Slatwall Systems and the services from the experts at The Smarter Garage, then please contact us today. We are happy to discuss the varying options with you, as well as offer you a free estimate for product purchase and installation. We look forward to working with you in the future!
We Make the Process Easy
Step 1
Contact us and one of our friendly team members will promptly follow up with you
Step 2
We will schedule a consultation to review your space and discuss your needs on a day and time that works for you
Step 3
We will schedule your job and complete the installation guaranteeing 100% satisfaction
Testimonials
The estimate was done in
a very professional manner, as was
the work. I would use them again
without question.
Roger Stevens
– Tampa, FL
Slatwall Systems