When it comes to your home, you want to make sure that you are making the most of every square inch—especially in terms of garage flooring. The right garage floor can make a big difference in your lifestyle. That's why so many homeowners choose polyaspartic as their garage flooring in Clearwater, FL.
Not only does it improve your garage's aesthetic, but it also helps with organization and safety. Garage floors come in many different materials, so there's sure to be one that best suits your needs.
From cement to epoxy, there is a garage flooring option to suit any preference. The Smarter Garage offers polyaspartic garage floors, which is becoming a trendy yet functional pick for homeowners all throughout Clearwater.
This company does amazing work. My parents had floor coating done by them a few years ago and referred us to them. They did our garage floor and our patio and it looks amazing. Junior and his crew did a amazing job. Will definitely recommend them!!!

Tina M.
---
What is Polyaspartic Garage Flooring?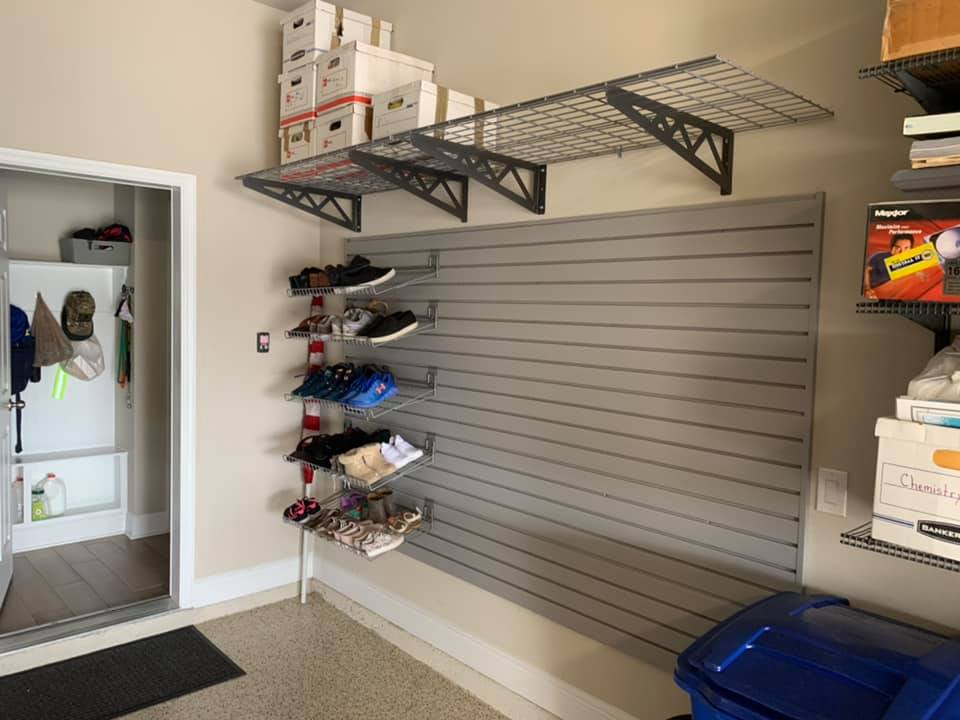 What is Polyaspartic Garage Flooring?
Polyaspartic flooring is a type of coating that is applied to a concrete garage floor to create a durable, smooth surface. The polyaspartic coating is applied directly to the concrete in a single application that has a long lifespan

Meanwhile, polyaspartic flooring is available in a wide range of colors. This gives you the ability to match the floor to any style, aesthetic, or functionality that you want. This floor is a great option for a variety of garage uses, including workshops.
In some cases, polyaspartic covers an existing concrete floor. But there are plenty of situations where a garage floor is poured from scratch using polyaspartic.
---
Benefits of Polyaspartic Flooring
Are you wondering if polyaspartic is the right option for you? Homeowners choose this floor option for some of the following reasons:

– Durability – Polyaspartic garage flooring is long-lasting, giving you plenty of time to enjoy its aesthetic and functionality.
– Versaility – Available in a wide range of colors, polyaspartic flooring can be used to match any style, aesthetic, or function.
– Easy Maintenance – Because polyaspartic is so durable, it doesn't need to be cleaned or maintained very often. In many cases, homeowners will simply hose the flooring off after use.
– Versatility – Polyaspartic is one of the most versatile options for garages. This is why it's one of the most popular options for garage flooring in Clearwater, FL.
---
What to Know Before Installing
Is your heart set on polyaspartic? We like homeowners to consider the following before installation:
– Color – While you can choose a color for your polyaspartic garage flooring. You can find a plethora of options to suit your personal taste. Select from pre-made colors or create your very own color palette.
– Installation – Polyaspartic takes less time to cure in comparison to epoxy floors.
– Maintenance – Polyaspartic garage flooring is easy to clean. Simply wash away dirt and debris with a hose for the best results.
---
Consider Polyaspartic as Your Garage Flooring in Clearwater, FL
If you are looking for a way to make your garage look cleaner and more organized, polyaspartic garage flooring is a great option. It is a good investment because it will last for many years and is easy to clean. This can be a great way to protect your garage from stains while making it more stylish.
Are you ready to enhance your space with new flooring? Contact The Smarter Garage to learn more.