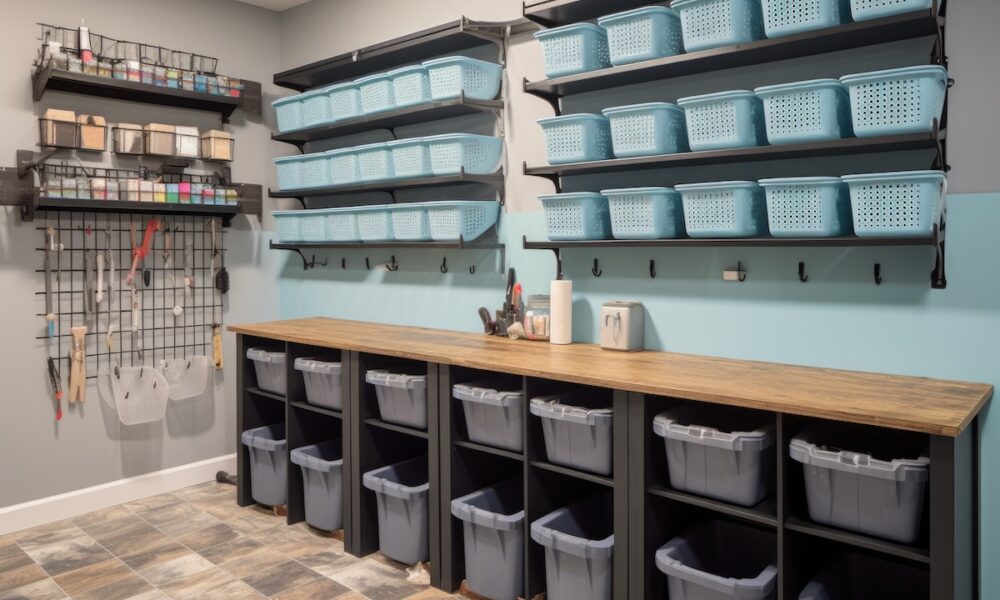 Every garage is unique, including the square footage, design, and garage storage systems. Transforming your garage into an epitome of organization and efficiency is completely possible, especially with the right systems in place. It's about optimizing space and accessibility. During the process, it's important to consider that every item has a home, and every task you undertake in this versatile space is streamlined.
But exactly how can you create the ultimate garage storage space? Enter flexible garage storage systems, allowing you to maximize every inch of your garage while maintaining functional space.
With the help of The Smarter Garage, you'll love the dynamic trio of overhead storage, slatwall systems, and garage cabinets. Let's explore how this harmonious blend can revolutionize your space.
Maximizing Vertical Real Estate: The Power of Overhead Storage
The truth is that the potential of the storage space above us goes unnoticed. Overhead storage systems are ideal when it comes to decluttering your garage floor. It's also the perfect complement to other garage storage systems for maximum efficiency.
So, what's great about overhead storage? These systems are perfect for storing a large range of storage options.
How to Mix Garage Overhead Storage with Other Types of Storage Systems
Overhead storage systems excel in housing items that aren't in daily use. However, for a well-rounded solution, complementing them with slatwalls and cabinets is key.
Slatwalls provide quick access to tools and equipment, while cabinets hide away clutter and protect fragile items. This creates a balance between the seldom-used items stored above and the frequently-used ones at eye level or below.
While overhead storage is perfect for seasonal or rarely used items, you don't want to store everything out of easy reach. Pairing with accessible solutions like slatwalls for hanging tools or cabinets for personal items ensures that everything is as accessible as it is organized.
Keep in mind that bins and boxes can be labeled and placed on lower shelves or within cabinets, making the search for specific items swift and effortless.
Slatwalls for Streamlining Garage Storage Systems
Slatwall systems serve as the ultimate customizable storage solution. Consisting of wall panels with horizontal grooves, they accommodate a variety of hooks, shelves, and bins. These components can be easily repositioned to fit evolving storage needs.
Ideal for gardening tools, sports equipment, or even a bike, slatwalls keep your gear accessible and organized. Their adaptability not only makes your items easy to find but also showcases your garage as a model of organizational innovation.
How to Mix Storage Solutions with Your Slatwall System
Slatwall systems are a popular choice for versatile storage and display solutions in Tampa Bay garages. But to to maximize space and efficiency, it's often beneficial to integrate slatwall systems with other types of storage systems. Here's how you can make this work.
Combining with Shelving Units
Place freestanding shelving units or cabinets adjacent to slatwall panels to create a cohesive storage area. Items frequently used can be hung on the slatwall for easy access, while less commonly used items or bulkier goods can be stored on the shelves.
Another idea is to install floating shelves above the slatwall panels to store items that aren't suitable for hooks or bins. This creates a multi-dimensional storage solution that utilizes wall space efficiently.
Pegboards are Perfect for Slatwall Systems
Use slatwall panels alongside pegboards within a workspace to enhance the variety and flexibility of storage. While slatwalls can support heavier items thanks to their construction, pegboards are ideal for smaller tools and accessories.
From there, you can design a transition area where the slatwall and pegboard meet. Think about using compatible accessories or a complementary color scheme to maintain visual consistency.
Combining with Overhead Storage
In spaces like garages, use overhead storage racks for bulky items or seasonal storage, keeping the floor area clear. Pair this with a slatwall system for tools and equipment for regular use.
Integrating with Storage Bins and Containers
Another great idea is to use specialized slatwall accessories to hang storage bins for small items like hardware parts, accessories, or craft supplies. This method keeps these items visible and sorted while saving space.
Meanwhile, place larger storage containers or bins on the floor beneath the slatwall system. Label these for easy identification of contents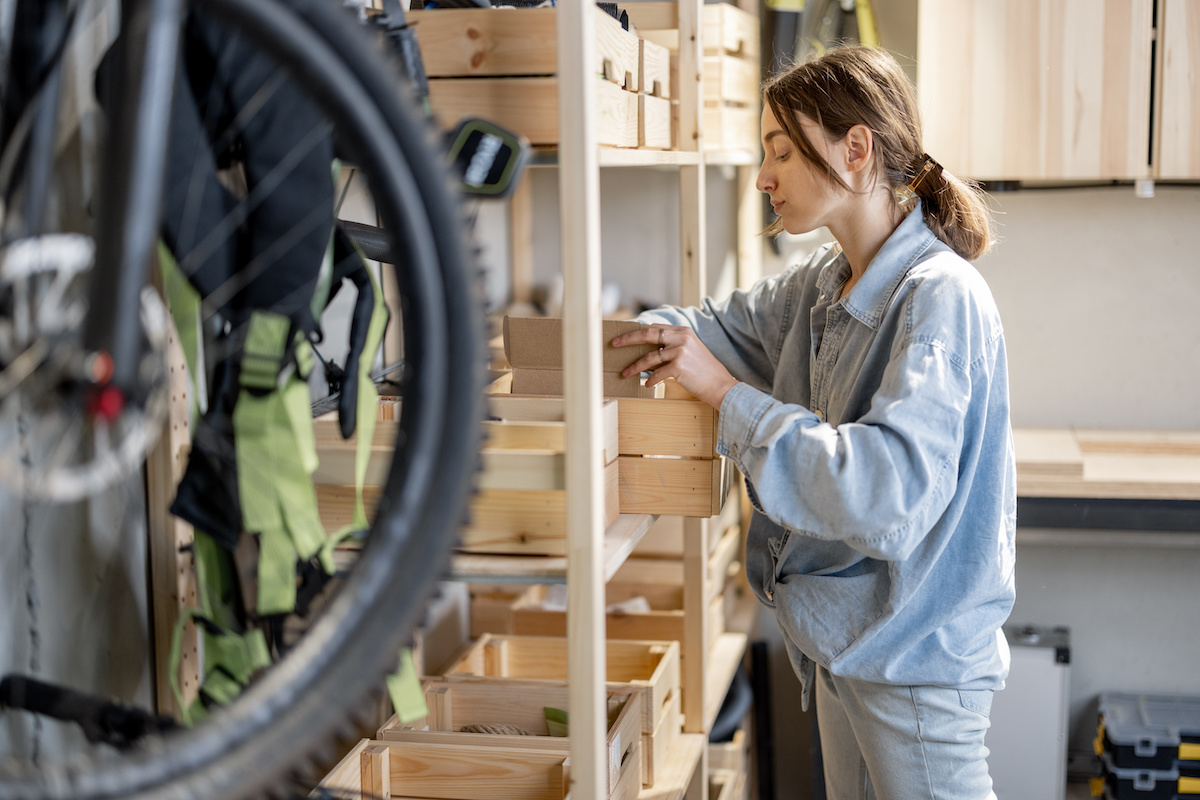 Enjoy the Efficiency of Garage Cabinets
For items that require protection from dust, pests, or harsh environmental conditions, garage cabinets are your go-to. These robust storage units offer a blend of functionality and aesthetics, concealing clutter and safeguarding your belongings.
How to Mix Storage Solutions with Your Slatwall System
From stackable units and corner cabinets to those with lockable doors for hazardous materials, garage cabinets can be tailored to fit your space and needs. Let's talk about the ways you can maximize these garage storage systems in your Tampa Bay home.
Integrating with Overhead Storage
Position your garage cabinets around the periphery of your garage, and use the overhead space to install storage racks. The overhead racks can accommodate seasonal items and equipment, while the cabinets are perfect for items that need to be accessed more frequently or require a dust-free environment.
Be sure to keep the design functional, ensuring cabinets don't obstruct access to overhead items.
Find Synergy with Slatwall Systems
Install slatwall panels next to or above garage cabinets to create a highly efficient tool storage area. The slatwall system provides quick access to hand tools and equipment, while cabinets are great for storing larger power tools or bulk supplies.
Design the layout so the slatwall and cabinet areas complement each other, both visually and functionally. Use similar colors, materials, or styles to create a cohesive look.
Complementing Shelving Units
Align freestanding shelving units with garage cabinets to increase storage space. While cabinets can conceal clutter and protect sensitive items, shelving units offer open storage for items that are frequently used or don't fit into cabinets.
For a clean, organized appearance, choose shelving units that match the style and color of your garage cabinets. This uniformity helps maintain an orderly garage space.
Harmonizing with Pegboards
Combine pegboards with garage cabinets for a versatile workspace. Pegboards can hold a variety of small tools and accessories at arm's reach, while cabinets are ideal for storing larger items, chemicals, or items that need to be secured.
Create a transition zone between pegboards and cabinets with compatible hooks, shelves, or color schemes that provide visual consistency and ease of use.
Collaboration with Storage Bins and Containers
The final tip is to try storage bins and containers for small accessories or loose parts and store them inside or on top of garage cabinets, keeping them organized and easy to find.
For larger bins, designate an area beside the cabinets. Label each bin and choose a color that complements your cabinets, ensuring they are not only functional but also add to the overall aesthetic of your space.
Get Garage Storage Systems from The Smarter Garage
Get the garage of your dreams with garage storage systems from The Smarter Garage. We offer slatwall systems, garage cabinets and overhead storage for homeowners in the Tampa Bay area. Contact us today to bring your dream garage to life!