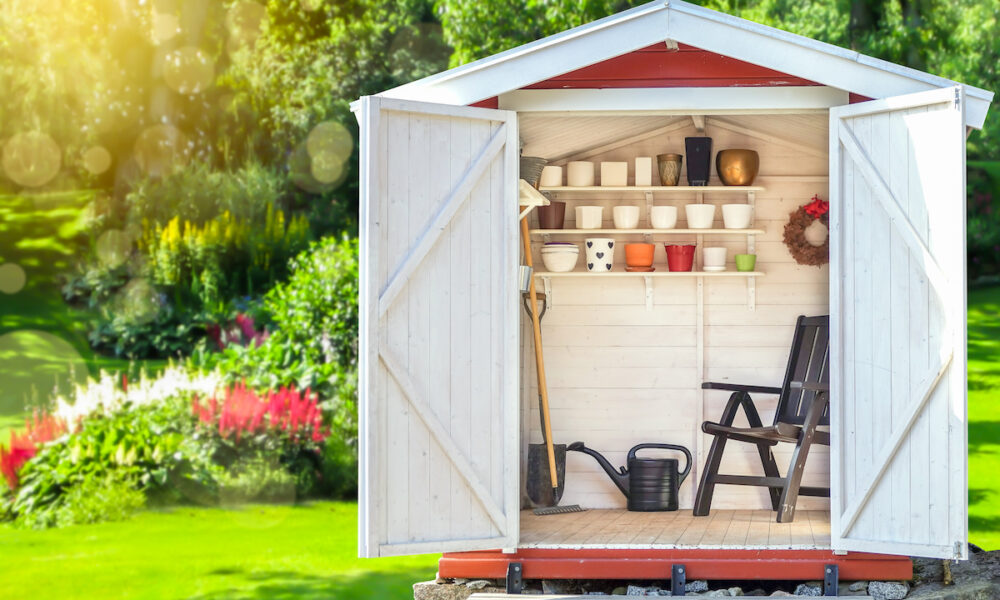 Here in the Greater Tampa Bay area, we can enjoy gardening all year long. And with the growing popularity of gardening, the need for effective garage storage for gardening tools has surged. Whether it's to house the pruning shears or the planting mix, your garage can serve as the perfect refuge for your tools and supplies, while offering a tidy and accessible space for you to work. If you need garage storage for garden tools, we're here to help!
The Importance of Organized Garage Storage & Garden Tools
Did you know that a messy home can cause stress and anxiety? This concept certainly extends to your garage space. But the truth is that an organized garage extends beyond good mental health.
Having a well-organized garage storage system can transform your gardening experience from chaotic to serene. Imagine a space where each tool has a designated spot, is easy to locate, and neatly stowed away when not in use. This will make your gardening experience much more enjoyable!
Consider garage storage for garden tools to enjoy . . .
Space optimization: A well-organized garage storage system maximizes space, making room for your car, your gardening equipment, and any other items that need stowing away.
Efficiency and accessibility: Save time and avoid frustration by knowing exactly where each tool is located.
Longevity of tools: Proper storage can extend the lifespan of your gardening tools by protecting them from damage and rust.
Safety: A tidy garage minimizes risks associated with tripping over or stepping on misplaced tools.
The Various Gardening Tools and Their Storage Needs
What garden tools do you have in your arsenal? Different gardening tools require different storage solutions. Some of the common tools include:

Small handheld tools: These include pruners, weeding tools, and trowels. They should be stored in a manner that makes them easy to reach and handle.
Long-handled tools: Rakes, hoes, and shovels come under this category. Due to their length, they need to be stored upright or hung to prevent damage.
Power tools: Lawnmowers, string trimmers, and leaf blowers require more substantial storage areas, often with provision for power supply and maintenance.
Incorporating Overhead Storage
Overhead storage systems provide a great way to utilize the unused space above your head. They are perfect for storing seasonal items like holiday decorations or less frequently used gardening supplies.
You can keep bulky items such as fertilizers, compost bags, and seed trays. An added benefit is that this type of storage keeps items away from children and pets.
Maximizing Space with Overhead Storage for Garden Supplies
When it comes to efficient storage, overhead solutions can prove to be a game-changer. They allow you to utilize the often-ignored vertical space in your garage, freeing up floor space for other essentials. Overhead storage systems can be particularly useful for gardeners, as they offer ample space for various types of supplies. Below are some ways to use garage storage for garden tools with this method.
Seasonal Supplies:
Items like spring bulbs, frost blankets, and other seasonal-specific materials can easily store inside overhead storage bins during off-season months. This allows for a clear, clutter-free workspace. Furthermore, you'll feel confident that the supplies will remain in good condition for their respective seasons.
Bulk Items:
Overhead storage can be perfect for housing larger, bulkier items such as big bags of potting soil, compost, mulch, or large plant pots. By keeping these weighty items overhead, you ensure that they're out of the way yet easily accessible when required.
Rarely Used Equipment:

Do you own equipment that you only use a few times a year? Maybe a particular set of shears for a seasonal plant, or a specialized tool for a specific task? These items can find a perfect home in overhead storage. This way, they aren't taking up valuable real estate in your primary storage areas. Meanwhile, they're still there when you need them.
Plant Protection Supplies:
Certain plant protection supplies such as netting, stakes, hoops, or cages can be awkward to store due to their size or shape. Overhead storage can offer a great solution for these items, allowing you to keep them tucked away when not in use but easily reachable when needed.
The Flexibility of Slatwall Systems
Slatwall systems are versatile solutions that can be easily customized to fit your storage needs. They offer a variety of hook sizes and types to hold any kind of tool, be it large or small. You can also add baskets for small tools and seeds. Slatwalls are simple to install and can be expanded or reconfigured as your gardening tool collection grows.
Leveraging Slatwall Systems for Garden Supplies
Slatwall systems are the embodiment of flexibility and customization in the realm of garage storage. Their simple yet ingenious design allows gardeners to hang, hook, or shelf their tools and supplies in a way that best suits their needs. Here are some great ideas to consider!
Hand Tools:
One of the greatest advantages of slatwall systems is their suitability for hanging. You can use hooks of varying sizes to hang hand tools. They're perfect for items like trowels, pruners, or hand rakes. This keeps your tools at eye-level and easy to reach when needed.
Long-Handled Tools:
Larger tools like shovels, rakes, and hoes can be hung vertically from slatwalls. This prevents them from leaning precariously against walls or cluttering the floor, reducing tripping hazards and extending the tools' lifespan by preventing damage.
Baskets for Smaller Items:


Slatwall systems can also accommodate baskets, which are perfect for housing smaller items like gloves, twine, seed packets, or plant labels. You can even dedicate specific baskets to specific gardening tasks, further enhancing your efficiency.
Special Hooks for Hose Storage:

Tangled garden hoses can create a messy look and a tripping hazard. Specialized hooks designed for slatwall systems can neatly coil and store garden hoses, keeping them kink-free and ready to use.
Attachments for Larger Equipment: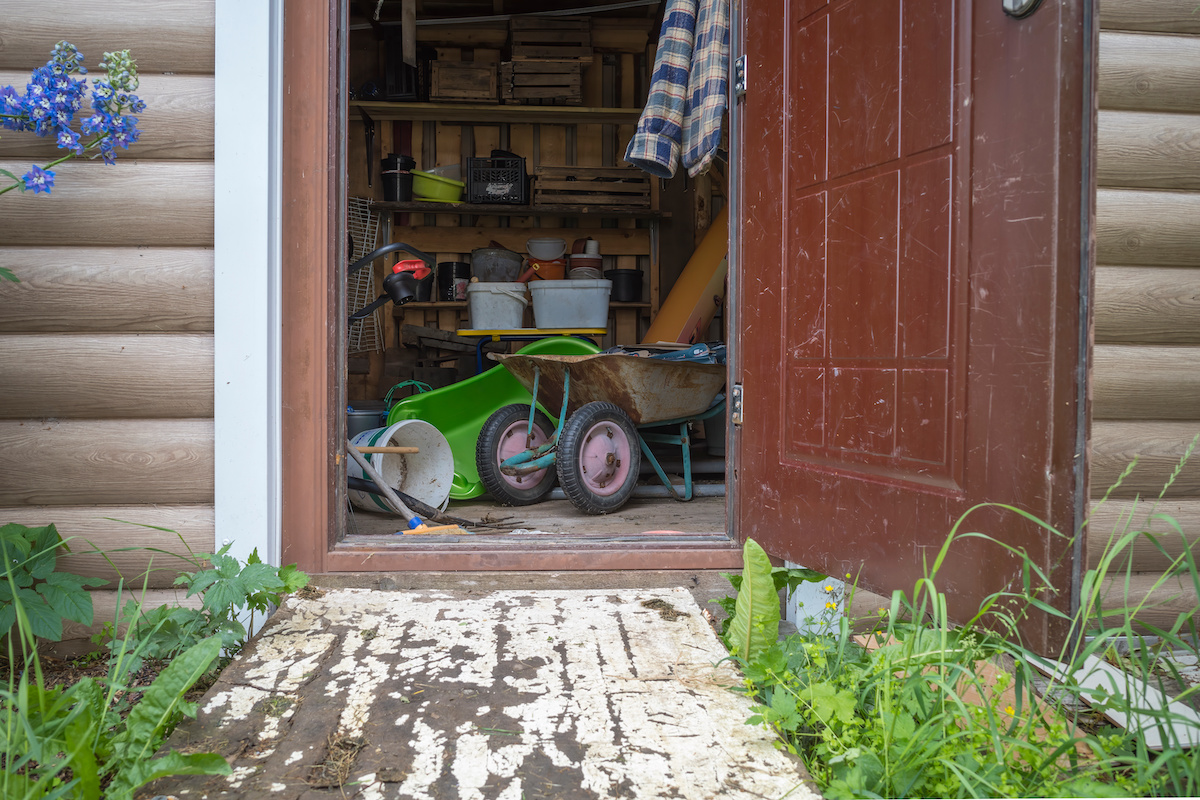 With the right attachments, slatwall systems can even hold larger equipment such as lawnmowers or leaf blowers. This frees up valuable floor space while keeping your equipment accessible and well-maintained.
Garage Storage for Garden Tools: Benefits of Garage Cabinets
Garage cabinets are fantastic for those items that need to be stored away safely or hidden from view. They can house hazardous materials such as pesticides and herbicides, protecting your family and pets. Cabinets can also be used for storing seedlings or sensitive plants that require a controlled environment. Consider cabinets with locks for added safety.
Garage Storage for Garden Tools: Quick Tips for Storing Garden Supplies
Effective garage storage for gardening tools also includes taking care of the supplies:
Seeds and Bulbs: Store these in a cool, dry place, preferably in airtight containers to prevent moisture damage.
Fertilizers and Soil Enhancers: Store these in their original bags placed inside sturdy plastic bins to prevent any spills or leaks.
Plant Protection Supplies: Netting, stakes, and ties can be coiled up and stored in bins or hung on a slatwall system.
Get Great Garage Storage for Garden Tools with The Smarter Garage
Has this exploration of garage storage for garden supplies inspired you? Imagine a garage that's as stylish as it is functional, where every tool and supply has a specific place. Envision more time for play and projects in the garden instead of sorting through bins to find supplies. 
With The Smarter Garage, this vision can become your reality. We offer customized options that cater specifically to your needs, ensuring your valuable tools and supplies are well-organized and easily accessible. Plus, our solutions provide peace of mind by allowing you to lock up any potentially toxic chemicals, like pesticides, away from pets and children. Please contact us today to get started!