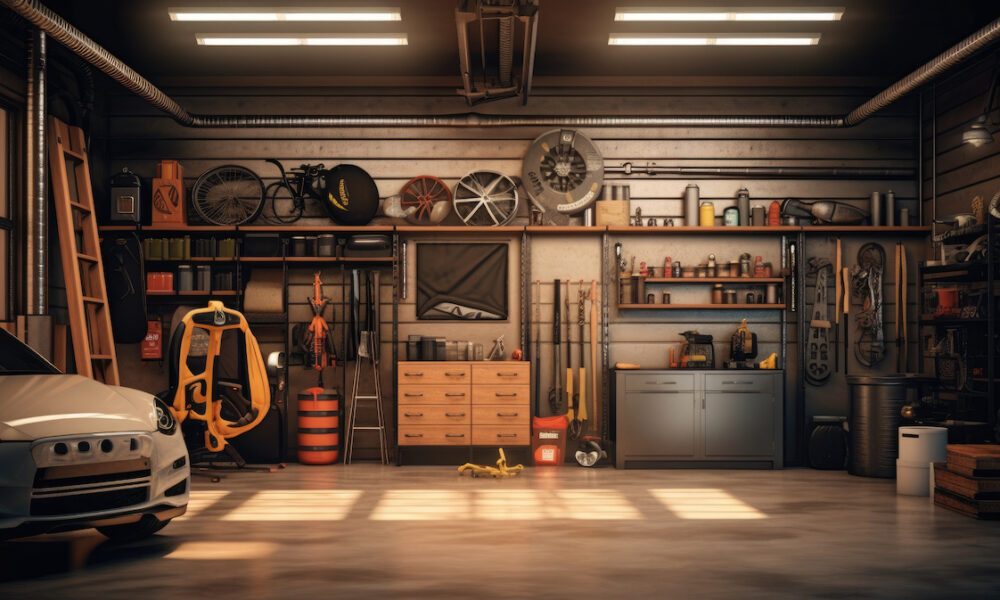 Auto enthusiasts understand that a garage is more than just a space to park vehicles–it's an extension of their passion for automobiles. However, without a strategic storage system, things can quickly turn into a chaotic mess. But with the right garage storage ideas for auto parts, there is plenty of opportunity to create a dream auto shop in your garage!
Using effective garage storage ideas is the key to maintaining an organized space. This is where both cars and car-care essentials coexist in harmony. It's easy to do with solutions like slatwall systems, garage cabinets, and overhead storage. We can show you how to make sure that your garage is equipped to house tools, spare parts, and accessories while still providing ample room for prized vehicles.
Maximize Space with Slatwall Systems
Slatwall systems are the Swiss Army knife of garage storage, offering outstanding versatility with a sleek appearance.
Comprising wall-mounted panels with horizontal grooves, they allow auto enthusiasts to customize storage arrangements. This is done by using an array of hooks, bins, and shelves. It's perfect for storing tools, equipment, and even cleaning supplies. If you want a home auto shop with wow-factor, consider a slatwall system.
Another big benefit of slatwall systems keep the garage floor uncluttered. This storage solution also serves to protect items from water damage and reducing tripping hazards. With these systems, every tool has its place! This makes inventory management and tool retrieval a breeze. This is invaluable for those critical moments of vehicle maintenance or restoration. What auto enthusiast doesn't want to have a clean and organized garage space?
Great Storage Ideas for Auto Parts with Slatwall Systems
Looking for a real world example of how you can use slatwall systems for auto parts? Consider the following ideas:
Hooks for Hand Tools: Use various hook sizes and shapes to hang wrenches, screwdrivers, pliers, and other hand tools. Arrange them by size or frequency of use for quick access.
Shelves for Spare Parts: Install shelves for organizing and storing different spare parts. Group similar items together, such as filters, spark plugs, and belts, for a more systematic arrangement.
Bins for Small Accessories: Utilize plastic bins or baskets to store smaller items like nuts, bolts, fuses, and connectors. Clear or labeled bins can help you identify contents at a glance.
Racks for Wheels and Tires: Specialized tire racks or hooks can be used to securely store extra sets of wheels and tires, keeping them off the ground and preventing any potential damage.
Holders for Cables and Hoses: Use holders or hooks designed for coiling and hanging air hoses, jumper cables, or extension cords, preventing tangles and keeping them ready for use.
Racks for Helmets and Apparel: For those involved in motorsports, use special racks or hooks for racing helmets, gloves, and driving suits, ensuring they're kept in good shape and ready for the next event.
Paper Towel and Tape Dispensers: Install dispensers for paper towels and tapes, which are essential for quick cleanups and various tasks around the garage.
Magnetic Strips for Metal Tools: Magnetic tool holders can be attached to the slatwall, providing an easy way to store and access tools like wrenches, screwdrivers, and ratchets.
Organize Your Auto Parts with Garage Cabinets
For auto enthusiasts, the value of garage cabinets lies in their ability to conceal clutter and secure valuable items. These robust storage solutions come in various materials like metal, wood, or heavy-duty plastic and provide a clean, organized area for everything from spare parts and tools to fluids and car care products.
For example, lockable cabinets safeguard expensive equipment or potentially hazardous materials. This might be important to you if you have children or pets in your garage.
Furthermore, cabinets with built-in workbenches or countertops offer a multipurpose area where enthusiasts can work on smaller components. You can also lay out project plans or simply store their automotive literature. The right set of garage cabinets contributes to a functional, efficient, and secure environment conducive to productivity and creativity.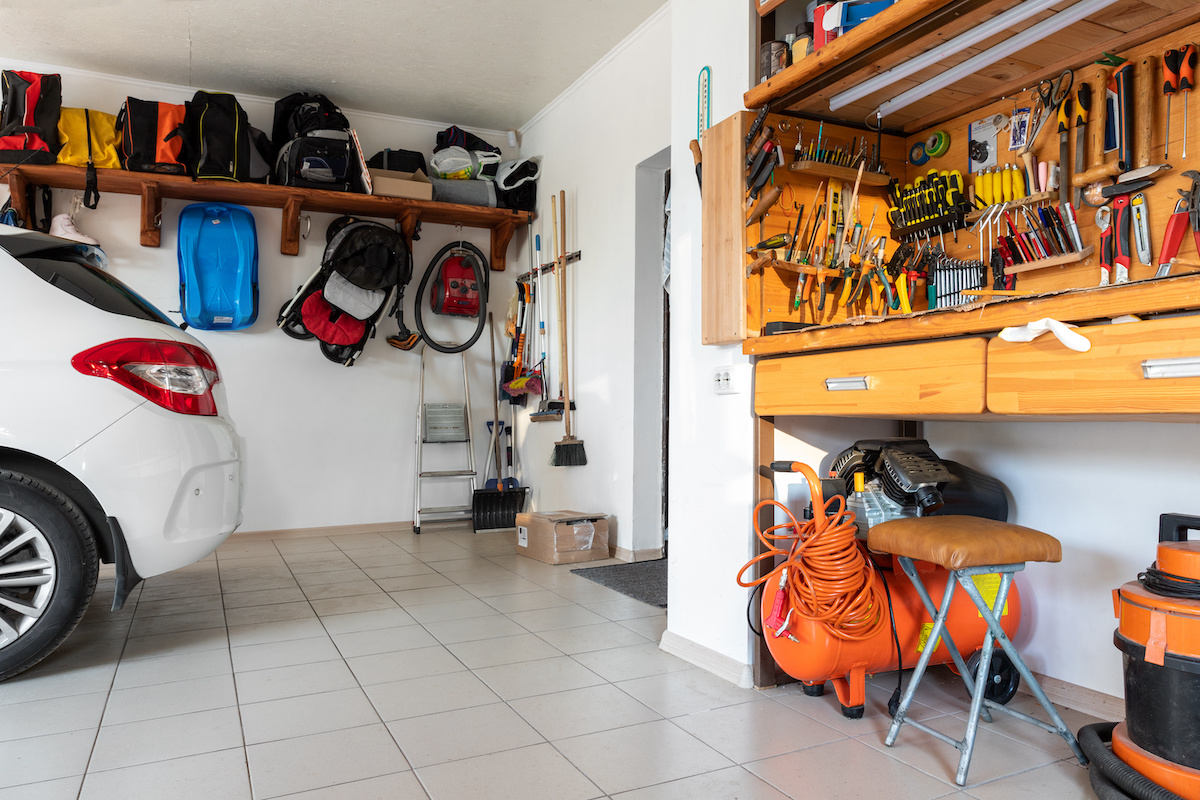 Leverage Overhead Storage
Often overlooked, the space above our heads is prime real estate for storage. In a garage, it becomes all the more valuable. Overhead storage systems take advantage of this unused space. They provide an ideal location for less frequently used items, seasonal gear, or spare parts waiting for future projects. 
These systems, which include heavy-duty racks anchored securely to ceiling joists, are perfect for storing bulky or heavy items that take up considerable floor space.
By tapping into your garage's vertical space, auto enthusiasts can free up more room for their vehicles. You'll have plenty of room for work areas while still keeping essential items accessible. Overhead storage solutions are a smart way to maximize space! This is especially true in smaller garages, ensuring every square inch is put to good use!
More Easy Garage Storage Ideas for an Organized Space
While cabinets, slatwall systems, and garage cabinets are the best garage storage ideas, there are other considerations to make. Try the following storage solutions for an even more organized space:

Rolling Tool Chests: Portable and efficient, rolling tool chests provide organized storage for tools and auto parts. They can be easily moved around the garage to keep necessary tools within reach during different projects.
Utility Carts: Similar to rolling tool chests, utility carts can be used to store and transport tools, parts, and even heavy equipment. They're versatile and can be repurposed for various needs.
Freestanding Shelving Units: These units are perfect for holding larger automotive supplies, equipment, and storage bins. Choose heavy-duty materials capable of handling significant weight.
Stackable Storage Bins: Ideal for grouping similar items, you can label these bins for quick identification. They're great for storing car care products, spare parts, and hardware.
Tire Racks: Specific racks for tires can also be mounted to the wall or be freestanding. They help in storing seasonal or spare tires properly, preventing deformation and saving floor space.
Workbenches with Integrated Storage: These workbenches come with drawers, shelves, and sometimes pegboards, providing a multipurpose space for both work and storage.
Portable Parts Cases: For smaller items like fuses, screws, and bulbs, portable cases with divided compartments are perfect. They're easy to carry around and keep tiny parts organized.
Corner Shelves: Utilize every part of your garage with corner shelves. These are excellent for maximizing space work with a variety of containers or loose items.
Keep in mind that a disorganized garage can cost you time and money. If it's been a couple of years since you've cleaned up and organized your garage, now is a great time to make a new transformation.
Organize Your Dream Garage with The Smarter Garage
Ready to design your dream garage for auto repair or other hobbies? Talk to us at The Smarter Garage. We are the go-to stop for all things garage storage in the greater Tampa Bay area. Contact us today to begin.