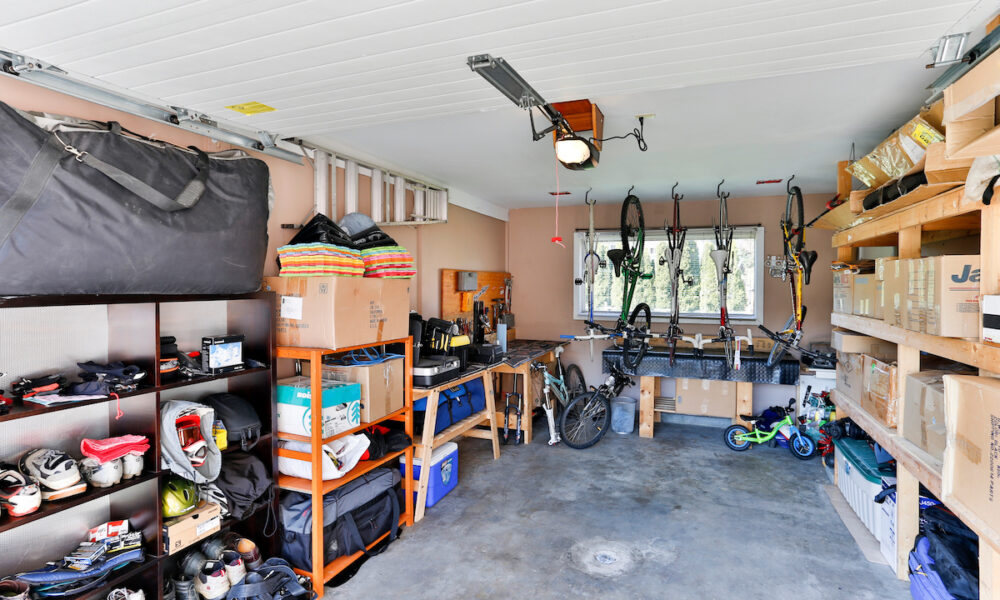 As a bike enthusiast, you know that proper storage is vital to maintaining your bicycles' lifespan. We can ride our bikes year-round here in Florida, which makes it even more important to take care of them. But let's face it–bicycles can be bulky, and keeping them clutter-free can be quite a challenge. The good news is that there are plenty of functional and even stylish garage bike storage options.
If you need great garage bike storage ideas, consider slatwall and overhead storage options, which is our specialty at the The Smarter Garage. Along with other smart upgrades, your garage can be organized as a perfect place to store your bike.
If you have a messy garage and a bike without good storage, be sure to contact us for help.
Slatwall Bike Storage: The Wall is Your Friend!
If you're wondering what a slatwall is, it's a wall surface that includes horizontal slats. It's a great option where you can attach hooks, baskets, and other storage accessories. Here's how to use this solution for your bikes:
Install a slatwall panel: Choose a sturdy slatwall panel that can support your bike's weight. Make sure it's installed correctly to avoid any mishaps. You can choose from various materials such as MDF, PVC, or metal depending on your needs.
Use bike hooks or brackets: Once your slatwall is ready, you can attach bike hooks or brackets to hang your bicycles. The beauty of a slatwall is its adaptability. You can easily adjust the hooks' positions to best accommodate your bikes.
Extra storage: Apart from hooks for bikes, you can add baskets or shelves to your slatwall. They can hold helmets, gloves, pumps, and other cycling accessories.
Remember, the key to a good slatwall garage bike storage system is its adaptability. As your bike collection grows or changes, you can quickly adjust your slatwall setup to match.
Other Slatwall Storage Ideas: More than Just Bikes!
Though we've discussed how to use slatwall panels for bike storage, they're incredibly versatile and can be used to store all sorts of items! Here are a few ideas:
Gardening Tools: With the right hooks and bins, your slatwall can become the perfect home for your shovels, rakes, watering cans, and more.
Sports Equipment: From basketballs to golf clubs, you can use a variety of hooks, baskets, and shelves to keep all your sports equipment tidy.
Workshop Tools: Create your dream workspace by hanging your drills, saws, and other hand tools. You can also add small bins for screws, nails, and other small parts.
Car Care Products: Free up your garage shelves by moving your car care products to the slatwall. Store your car wash buckets, polishes, and microfiber cloths neatly.
Overhead Storage: The Sky's the Limit!
For those who really want to maximize their garage bike storage options, why not look upwards? Overhead garage bike storage is a fantastic way to store your bikes out of the way, leaving ample room for your car or workspace. Here's how:
Choose an overhead storage rack: Select a rack suitable for your ceiling height and the weight of your bikes. These racks come in various types, like motorized lifts or simple pulley systems.
Install the rack properly: This is crucial for safety. If you're unsure about doing it yourself, hire a professional to ensure your bikes hang securely from the ceiling.
Practice lifting your bikes: Some might find it challenging to lift their bikes onto an overhead rack. Make sure you're comfortable with the process to prevent any injuries or damage to your bikes.
Overhead Storage isn't Only for Bikes
In addition to storing bikes, overhead storage in your garage can be used for a plethora of other items, especially those not regularly used. Here's how you can leverage overhead storage:
Seasonal Items: Overhead storage is perfect for items you only need once a year. Think Christmas decorations, camping gear, or winter tires.
Large Tools: Bulky items like ladders or long-handled tools can be stored overhead to save floor space.
Storage Boxes: Keep your garage floor clear by storing your labeled storage boxes overhead. Ideal for items you don't need regularly, like old files or keepsakes.
Kayaks or Canoes: If you're an adventurer with a watercraft, overhead storage is a great solution. Use strong straps and ensure the craft is secure.
One crucial aspect of overhead storage is safety. Ensure the items are securely stored and that heavy objects can be safely retrieved without risk of injury. Regularly used items are best kept elsewhere to minimize the risk.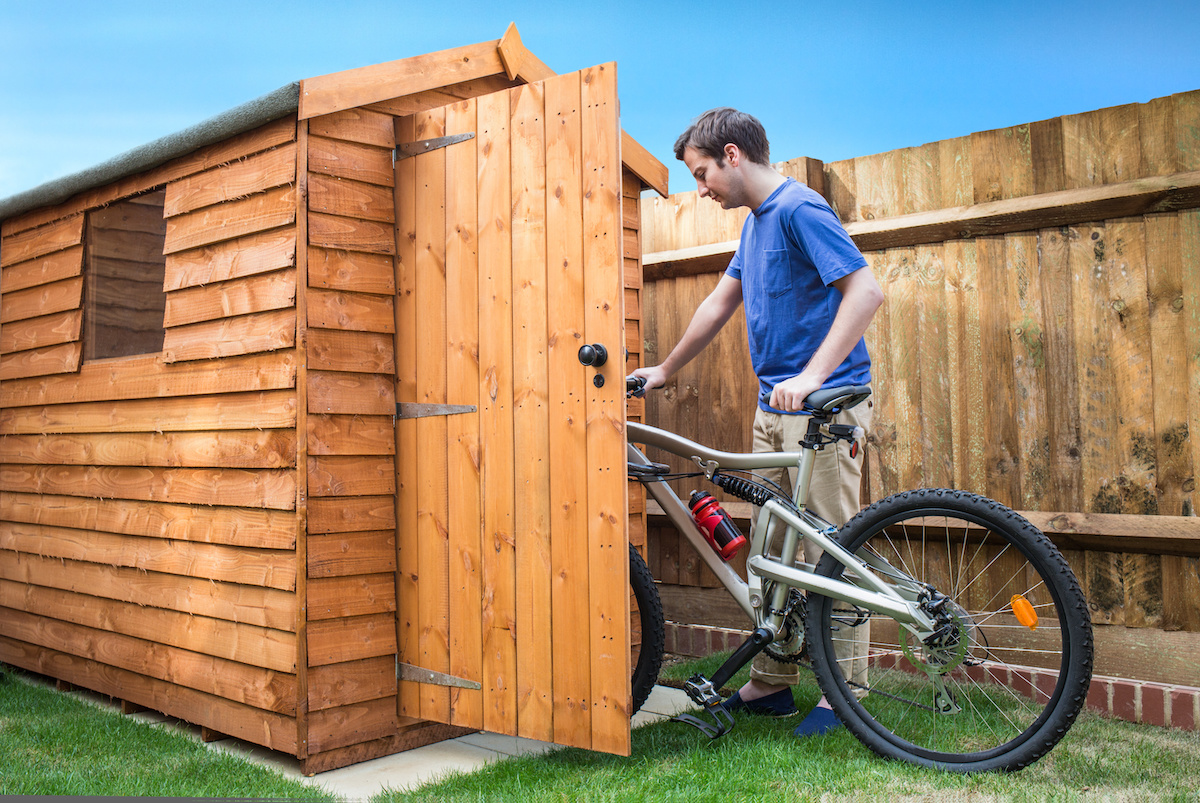 Other Space-Saving Garage Bike Storage Ideas
Beyond slatwall and overhead storage, there are other space-efficient storage solutions you can consider:
Vertical Bike Racks: Much like a coat rack, but for bikes! You can simply roll your bike up to the rack and hook it on. This way, your bike stands vertically, saving a ton of floor space.
Bike Stands: If you prefer your bike on the floor but still tidy, a bike stand might be your answer. These stands keep your bikes upright and stable.
Bike Sheds: If you have room in your yard, consider a small, outdoor bike shed. It provides a separate space for your bicycles and cycling gear.
Why Proper Garage Bike Storage Matters
Living in the Sunshine State offers abundant opportunities for cycling. However, Florida's unique climate poses certain challenges for bike storage, making it critical to store your bikes correctly in your garage. Here's why:
Protection from Weather Elements
Florida's weather can be harsh on your bike. High humidity can lead to rust on metal parts, while intense sunlight can fade paint and damage seats or tires. Storing your bike indoors, specifically in a garage, shields it from these damaging elements.
Security
Unfortunately, bike theft is a real concern. Properly storing your bike in your garage, ideally locked or high off the ground, can deter potential thieves and give you peace of mind.
Space Optimization
Bikes can take up considerable floor space, making your garage feel cramped. Using efficient garage bike storage solutions such as slatwalls or overhead storage can free up space, making room for your vehicle or other activities.
Bike Lifespan
Proper storage helps extend the lifespan of your bike. It prevents accidental damage that might occur if the bike is left on the floor or in a high-traffic area.
Ease of Access
When your bike has its designated spot in the garage, it's easier to access and put away after a ride. No need to navigate through a maze of clutter to get to it!
Get Bike Storage from The Smarter Garage
Ready to reclaim your garage space and give your bikes a secure, convenient home? At The Smarter Garage, we specialize in garage bike storage solutions, including versatile slatwall systems and space-saving overhead storage. Our team is here to help you design and implement the perfect storage system for your unique needs.
Contact us today and let's transform your garage into a smart, efficient space you'll love!