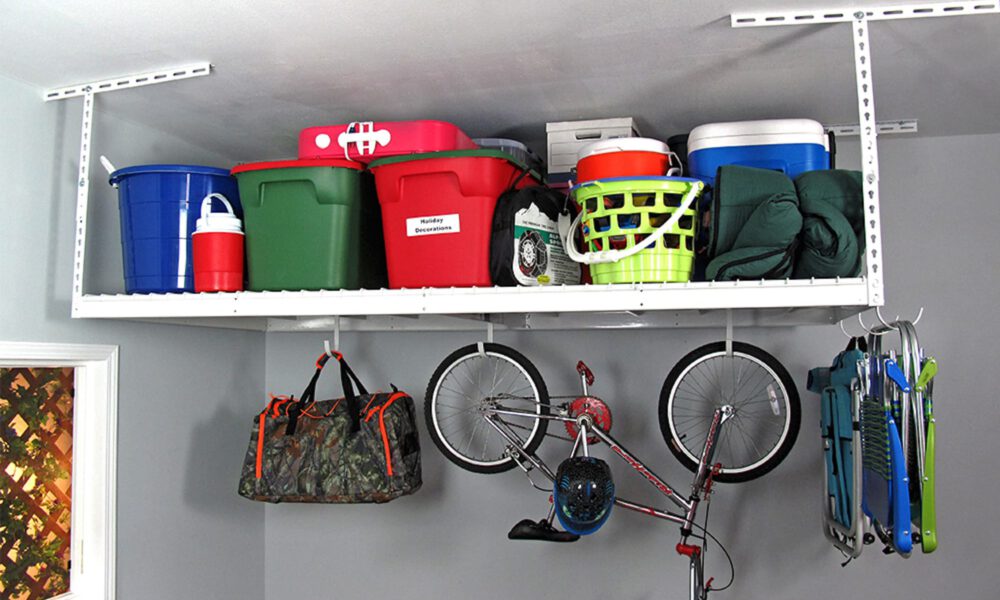 When you think of overhead storage, you probably imagine it being used in a warehouse or other large industrial space where heavy items need to be stored. But have you ever considered the benefits of using it in a residential garage? Overhead storage for your garage can make things safer, neater, and more efficient.
An elevated ceiling in the garage is an excellent place for overhead storage. It's a way to leverage unused space without having to build another room off of your garage. Installing overhead storage isn't difficult, but it does take some time. Here are some things you should know before getting started:
What Is Overhead Storage?
Overhead storage is a large storage rack that is mounted to the ceiling. This type of organization is ideal for those who have limited space in the garage and want to make the most of the vertical space they have.
Overhead storage is perfect for storing items that you use and don't use regularly, but are too awkward to store on the ground. There are many advantages to overhead storage. 
It's great for organizing, especially when paired with color-coded plastic totes. 
Frees up floor space allowing you to use your garage for other things.
Keeps your items from getting dusty or dirty.
It utilizes vertical space that is usually wasted 
What are the Types of Overhead Storage?
There are two types of customizable overhead storage: single-rail and double-rail.
Single-rail overhead storage involves a single length of mounted track with one or more hanging baskets. There may be no rails for additional baskets so when you want to add another basket, you have to remove one of the baskets currently on the track.
Double-rail overhead storage is like single-rail, but with two parallel rails for multiple baskets. It allows you to suspend baskets along the length of the track. This is the best option if you have a lot of items that need to be stored.
As you can see, there are various options when it comes to overhead garage storage. But how do you know if this style of storage is the right choice for your garage space?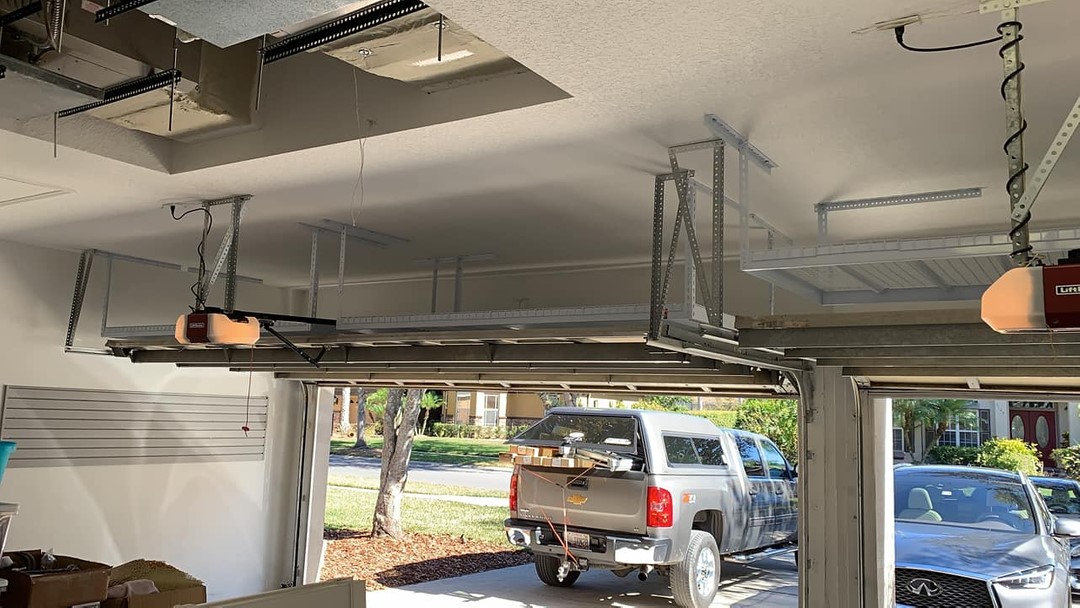 Signs that You Need Overhead Storage in Your Garage
Good quality overhead storage in the garage is an investment. If you are having trouble choosing the type of garage storage in your space, these are signs that overhead storage is the right decision:
If you can't fit all of your cars into the garage.
You frequently park on the lawn or the street because there's no room in your garage.
Your cars are always getting bumped or dinged by bikes and other items.
You have a large number of items stashed away in large bins, such as holiday decorations, with nowhere to put them.
The garage space is frequently messy, unorganized, and chaotic.
You may have thought that you have enough space, but over time you've acquired more stuff and are now running out of space.
There isn't enough room to work on your car or that it's difficult to move around.
Whatever the reason, it's time to find a solution for your lack of garage space. Overhead storage is a wise upgrade for any garage in the Greater Tampa Bay area. But what are the best ways to organize your items and maximize the benefits of overhead garage storage?
How to Organize Your Overhead Storage Racks
The first thing you need to do is decide what you want to store on your overhead racks. Once you've made that decision, you can start planning how you want to organize those items. Some of the most common items that homeowners store overhead include:
Electrical extension cords and power strips
Cables
Tools
Ladders
Hoses
Rolled up carpets
Bags of mulch and other seasonal equipment
Bins with holiday decorations
Pool items and accessories
Large and unused innertubes and inflatable objects
Skis, oars, and other oversized recreational equipment
And much more
It's important to organize the items you want to store on overhead racks. For example, you may want to use one track for your gardening supplies and another track for your sports equipment. You may not want to store frequently used items in overhead racks, but they are a great place to store seasonal items.
Ideas to Organize Overhead Garage Storage
Disorganized items on the overhead racks make it difficult for people to find what they need when they need it. This can cause issues and frustration when you are quickly trying to locate specific items.
The best way to do this is by category, and make sure everything has a place. Group similar items together such as camping equipment or holiday decorations. Make sure boxes are labeled or use color-coded boxes so items are easy to identify even without opening the lid.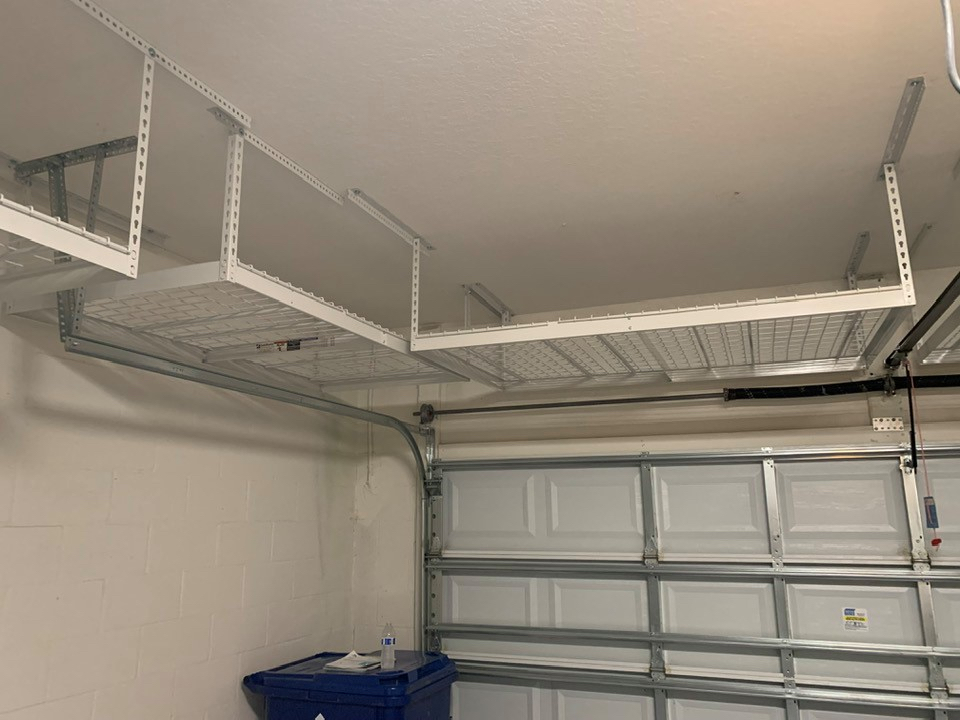 What Other Types of Garage Storage Solutions are There?
While overhead garage storage is a great solution, it's not the only option. Here are a few more ideas for garage storage, helping you to free up space and create an efficient, clean garage:
Slatwall systems are an easy way to add extra storage to any garage. They can be installed on the wall and create a clean, sleek design with great functionality. They're easy to install and come with a variety of hooks and hangers to fit your needs. You can even find Slatwall systems that include lighting to make it easier to see what's stored in your system.
Garage cabinets are versatile and can be used for many different purposes. You can organize your garage by storing your car maintenance items in one cabinet and your gardening supplies in another. You can also use garage cabinets for non-perishable items that you want to keep out of sight. Garage cabinets are great for storing tools, gardening supplies, and other items that you use regularly. Since garage cabinets are usually built to accommodate larger items, you can use them to store items that don't fit in your home. If you have a garage workshop, you can store your tools in garage cabinets.
Wall hooks are an affordable way to add storage to your garage. They work best on smooth surfaces like drywall or cement. Use anchors if the wall you're hanging from is brick or has an uneven surface. You can use wall hooks to organize bulky items like bikes, canoes, and sporting equipment.
Get Overhead Storage for Garages from The Smarter Garage
It's easy to find the right space-saving solutions for your garage. There are a variety of customizable overhead storage racks, shelves, cabinets, and more, making it easy to find the right option for your needs.
No matter what you're trying to store, our storage solutions can help you make the most of the space in your garage. Once you've installed overhead storage racks in your garage, you'll wonder how you ever got by without them. They keep your items organized and free up valuable space in your garage. 
The Smarter Garage provides many different types of garage storage solutions, including overhead storage for garages. Contact us today to learn more.