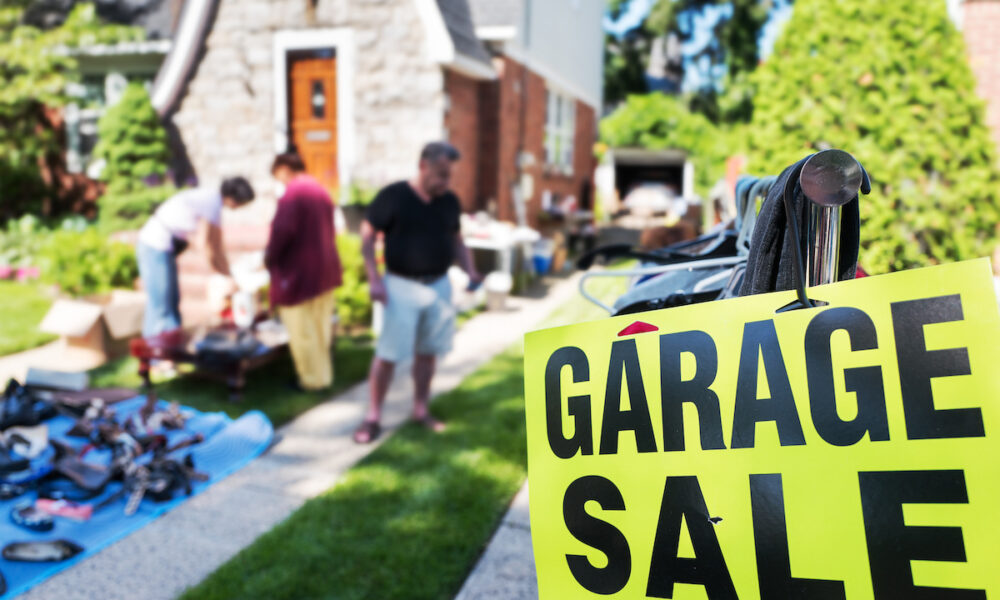 Garage sales are a fantastic way to declutter your home, make some extra money, and give your belongings a second life. To have the most successful garage sale possible, you need a well-organized and visually appealing space. When you need ideas to prep for a garage and arrange your space with garage storage solutions, The Smarter Garage is ready to help.
Preparing for Your Garage Sale
Getting ready for a garage sale can seem daunting, but with the right planning and organization, it can be a breeze. Prepping your space, organizing your items, and advertising your sale are essential steps to ensure a successful event.
With the following tips, you'll not only declutter your garage but also create a welcoming environment for potential buyers.
Declutter the garage area
The first step in prepping for a garage sale is decluttering. Go through every item in your garage, and decide if you want to keep it, sell it, or toss it. Be honest with yourself about whether you're ever going to use it again.
Not sure where to begin when it comes to decluttering? Check out our blog on organizing your garage space by category.
Clean your items
Before you put anything up for sale, make sure it's clean and in good condition. Follow these tips to get your items as clean as possible:
Wipe down tools: Grime and dirt can easily accumulate on tools, especially if they've been sitting in a garage for a while. Use a damp cloth or specialized cleaning solution to clean them. In the future, storing tools in garage cabinets will keep them clean.
Wash clothes: Nobody wants to buy dirty or smelly clothes. Make sure to wash and dry all the clothing items you're selling.
Dust decorations: Dust can settle on decorations, making them look old and unappealing. Use a feather duster or cloth to remove any dust.
Polish furniture: If you're selling any furniture, a quick polish can make a big difference in appearance.
Clean electronics: Wipe down screens, keyboards, and other surfaces to remove fingerprints and dirt.
Wash dishware: If you're selling kitchen items, ensure that all dishware and utensils are clean and free from food residue.
Vacuum upholstery: For items like couches or chairs, a quick vacuum can remove pet hair and crumbs, making them more appealing to buyers.
Set Prices
Once everything is clean, decide on your prices. Be realistic about what people will be willing to pay. Consider bundling similar items, like books or DVDs, for a discount.
Pricing your garage sale items appropriately is key to attracting customers and making sales. If items are priced too high, people may be discouraged from buying. If they're priced too low, you might not make as much as you could have. Here are some guidelines for pricing garage sale items:
How to properly price garage sale items


Research similar items: Check online marketplaces like eBay or Facebook Marketplace for similar items and their pricing. This will give you a ballpark figure of what people are willing to pay.
Consider the condition: An item's condition should directly influence its price. If an item is new or like-new, you can price it higher. However, if it's worn or damaged, it should be priced lower.
Be willing to negotiate: Garage sale shoppers often expect to haggle, so set your prices slightly higher than the lowest amount you're willing to accept. This way, you can give buyers a deal and still make a profit.
Bundle items: Create bundles of similar items, such as books, DVDs, or toys, and offer a discount for purchasing the bundle. This encourages people to buy more and can help you move more items quickly.
Use simple pricing structures: Use easy-to-read price tags and round numbers. Avoid using odd pricing like $1.03. Stick to simple prices like $1.00 or $0.50.
Consider the Venue: Remember that you're hosting a garage sale, not running a retail store. People are looking for deals, so your prices should reflect that.
Stay flexible: If it's late in the day and items haven't sold, you may want to lower your prices or be more open to negotiations. It's better to sell items at a lower price than not sell them at all.
Price fairly: Be fair in your pricing. Don't try to take advantage of buyers by pricing items unreasonably high.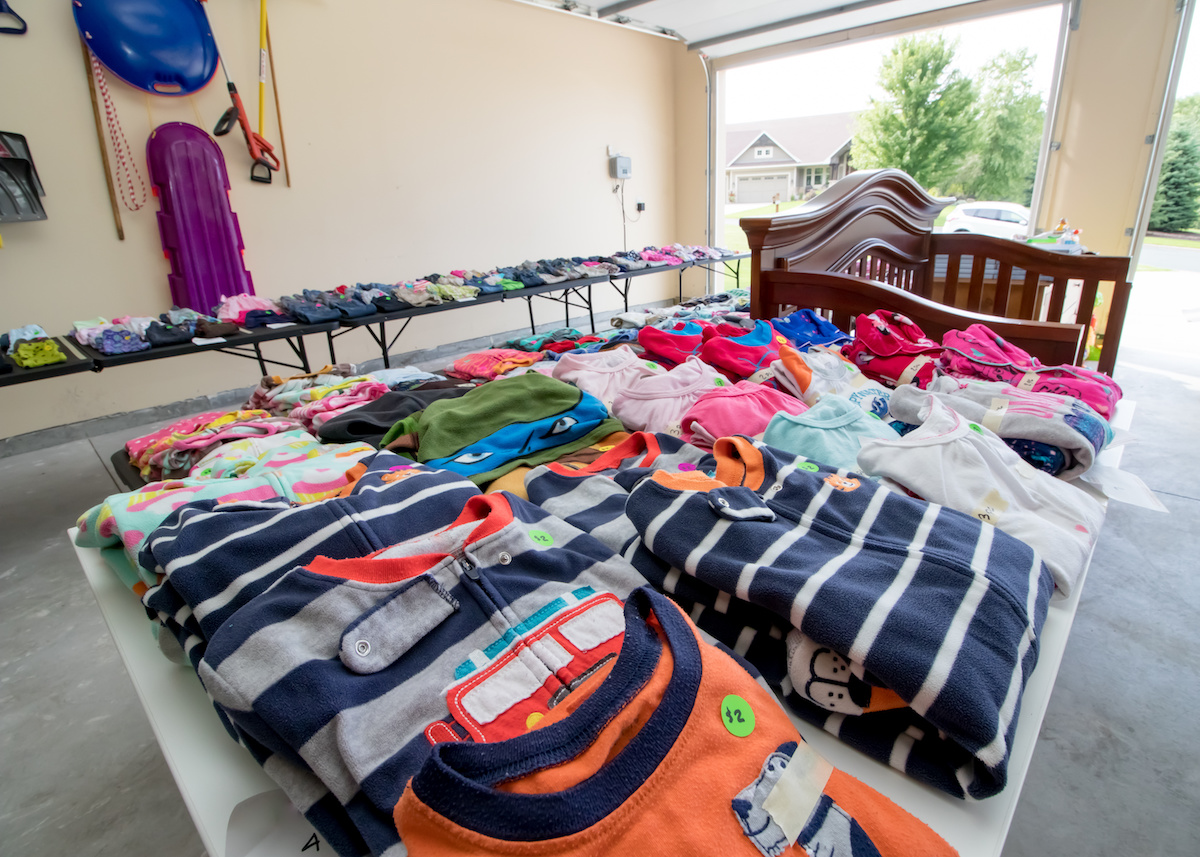 Create a layout
Organize your items in a way that makes sense and is visually appealing. Create sections for different types of goods, like a table for household items and a rack for clothes. Be sure to leave plenty of space for people to walk around and browse. You can also consider hanging some items on a slatwall system for easy viewing.
Advertise your sale
Use social media, online classifieds, and community bulletin boards to advertise your sale. Be sure to mention the date, time, and address of your sale, as well as any unique or high-value items you're selling.
After the Sale: Organizing with Garage Storage Solutions
After the garage sale, it's time to organize the remaining items in your garage. Innovative garage storage solutions can help you maximize your space and keep everything neat and tidy.
Slatwall Systems
Slatwall systems are versatile and customizable wall panels that allow you to hang and arrange a wide variety of items. They are excellent for organizing tools, garden supplies, and sports equipment. Slatwall hooks, shelves, and bins make it easy to customize the system to your specific needs.
Garage Cabinets
Garage cabinets are perfect for storing items that you want to keep out of sight. They come in various sizes and styles, allowing you to choose the ones that best fit your needs and the aesthetics of your garage. Keep your seasonal decorations, automotive supplies, or rarely used appliances organized and easily accessible in garage cabinets.
Overhead Storage
Overhead storage is an excellent solution for maximizing your garage's vertical space. Sturdy overhead racks can hold heavy items like kayaks, bicycles, or even spare tires. They keep your belongings safe and out of the way while freeing up floor space.
Find Great Garage Storage Solutions
Whether you're organizing your garage for a sale or your sanity, The Smarter Garage is here to help. Choose us to help with overhead storage, garage cabinets, and slatwall systems. An organized garage can bring peace of mind and lower stress levels for your next sale. Contact us now to learn more.