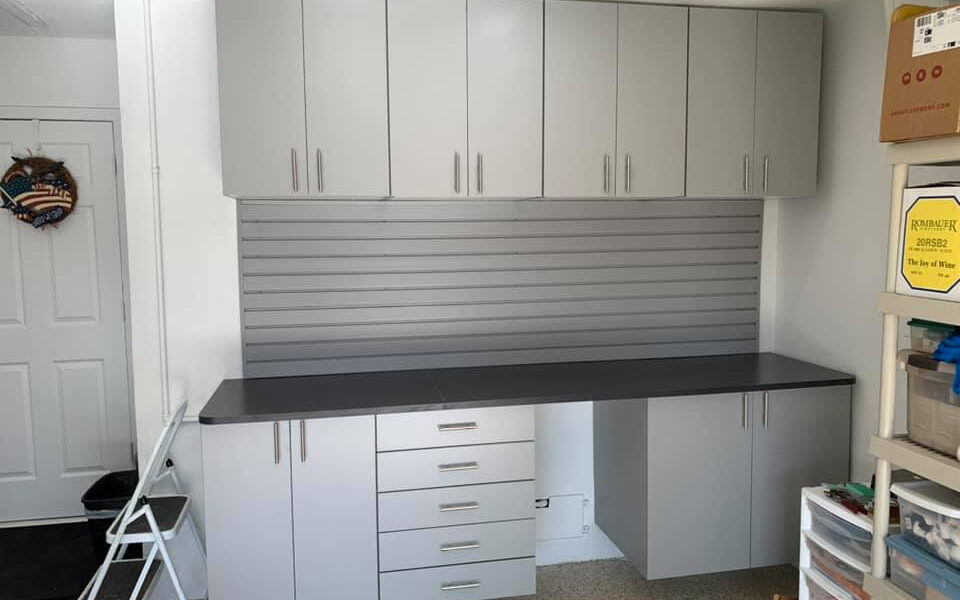 The garage is one of the most under-appreciated spaces in a home. It's usually tucked away and closed off from the world, rather than highlighted as an important living space. Garage upgrades might not necessarily come to mind for increasing your home's value. However, a well-designed and well-maintained garage can have a positive impact on your property's resale value.
A garage that has been renovated can create a lot of value in the eyes of your buyer. Not to mention, it can boost the total value of your home!
So what garage upgrades bring the best bang for your buck?
Add Value Through Basic Repairs
If you've been in your house for a while, your garage probably isn't in pristine condition. Unless you've made an effort to stay on top of minor repairs, the garage has likely suffered some wear and tear over the years.
A repainted wall or a new coat of floor paint won't increase your home's resale value the way a new roof or foundation repair would, but it can certainly help everything look newer and fresher. High-end buyers will often look for a property in need of TLC and then offer a lower price than the asking price. If you make repairs to your garage before putting your home on the market, you can avoid this issue.
What are the simplest repairs to make to your garage? A simple can of paint can bring a lot of wow-factor to your garage space. This is an easy DIY upgrade that nearly any homeowner can do. You can also fix up floor scuffs, replace outdated hardware, and make sure that all locks in are in working order.
Create an Efficient Garage Design
One of the best ways to increase your home's resale value is to design an efficient and well-organized garage. This can be a challenge when you're working with an older property that may not have been designed with this in mind.
Here are a few easy ways to make any garage more efficient:
Add shelves – If you have lots of tools or sports equipment, it can be challenging to store them in a garage with limited space. Putting a few shelves or built-in shelving units in your garage can help you to maximize the wall space in the room.
Build a workbench – A workbench is a great way to create a functional area in your garage. Not only does this give you a designated space for all of your tools, but it provides usable space for projects.
Add new garage lighting – A well-lit garage looks more inviting and makes it easier to work in there. A few strategically placed shop lights can make a world of difference.
Add plumbing – If you have the space, adding plumbing fixtures like a sink and a toilet can make it a lot more convenient to work in the garage.
Install a garage door opener – No one wants to get out of the car in the rain to open the garage door. Most people expect modern garages to have automatic openers so this simple upgrade will be appreciated.
Install a door to the house – If your garage is near your house, a connecting doorway, breezeway or covered walkway is a great way to create easier access between these two spaces.
Clean and efficient air conditioning air handler or furnace.
Increase Value With Modern Finishes
If you're looking to renovate your garage and increase its value, you should consider investing in high-end materials and high-quality finishes. Consider upgrades like polyaspartic flooring instead of a coat of paint or high-quality cabinets and countertops instead of cheap particle board.
While you can always paint the walls and cabinets in your garage, you can't do the same with the floor. Over time, concrete will crack, shrink, and even start to crumble in places. Installing polyaspartic flooring in your garage will give you the high-quality finish that high-end buyers expect. This flooring can be customized to match the color of cabinets and walls, making it a great way to tie the room together and increase its value.
Garage Upgrades: Increase Value With Storage
We already touched on the value of adding storage as part of your garage upgrades, but what exactly does this entail?
Nothing will decrease the value of your garage more than an overstuffed and disorganized space. It doesn't matter how much you spend on floors and countertops; if your garage is completely unusable because it's crammed full of stuff, it won't add any value to your property.
If you want to maximize the value of your garage, you need to add proper storage. Large cabinets can hold everything from sports equipment to gardening tools, shelves are great for storing things that you like to keep within reach, and overhead storage systems are a great way to keep seldom-used items out of your way. Some homeowners enjoy Slatwall systems where they can easily hang items such as gardening or mechanic tools.
You'll also want to consider your lifestyle when it comes to choosing garage storage. For example, If you use a lot of potentially dangerous equipment or chemicals, you may want lockable garage cabinets to keep these items away from children.
Installing custom cabinetry brings a lot more value than the DIY storage cabinet approach. Custom garage cabinets will perfectly utilize every nook and cranny of your garage space. This is the ideal way to truly maximize the space that you have available in your garage.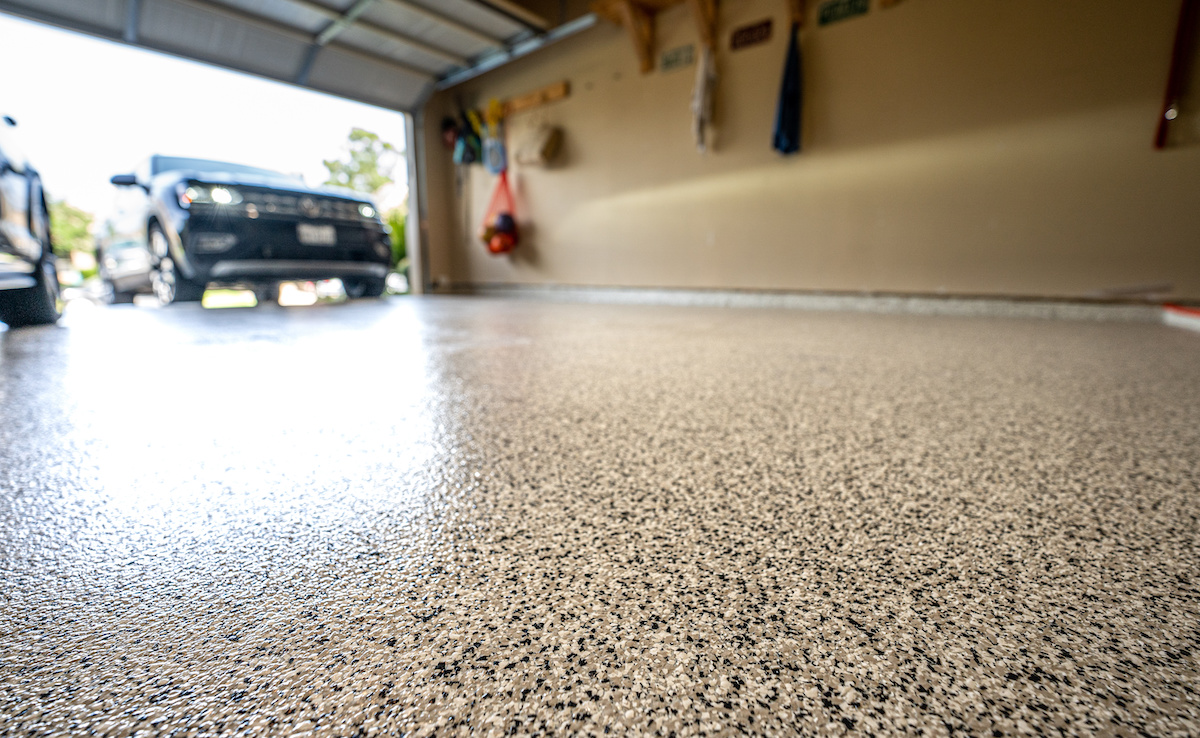 Install Polyaspartic Flooring
If you're renovating your garage, you may be wondering whether you should go with concrete or polyaspartic flooring. Both options will last a long time and are durable. But some key differences make polyaspartic flooring a better option.
Polyaspartic flooring is a synthetic material that looks similar to epoxy. The good news is that it comes without the downsides. It's very durable and can be installed over many types of subfloors.
However, polyaspartic is easier to clean than concrete. You don't need to use special sealants to keep it looking nice. Concrete is a great choice for many people, but it's costly to fix once you damage it. It can also be challenging to keep concrete floors clean. This certainly takes away from the value of your home.
Did you know that polyaspartic flooring also offers the opportunity for incredible color combinations? While you might not go overboard with custom colors if you plan to sell your home, it's a neat option to consider for adding personality.
Another strong selling point of polyaspartic flooring is that it does not pose health risks, unlike epoxy flooring. Inhaling epoxy fumes can lead to health complications including asthma, emphysema, skin irritation, and difficulty breathing.
Epoxy also has a high VOC content, which is a very dangerous form of chemical. It can cause headaches, nausea, dizziness, and irritation of the eyes, nose, and throat. Epoxy is generally considered safe to work with if the recommended guidelines are followed closely. But it's important to have the right safety equipment on hand. You must also follow all safety precautions to avoid inhaling the epoxy fumes and coming into contact with the chemicals.
Increase Your Home's Value with Help from The Smarter Garage
If you want to maximize the value of your garage, you first need to understand how the room is contributing to your property's value in the first place. Your garage is often factored in to measure the overall size of the home and can help to determine how many people can comfortably live in the property.
Your garage also impacts your home's value in terms of its functionality. A well-designed garage can be seen as an extra room in your home, which can help to boost its value. To increase your garage's functionality, you should plan out your garage before you begin renovations.
You can maximize your garage's value with help from The Smarter Garage. We provide garage cabinets, shelving units, and even overhead storage to keep your garage space organized. If you're looking for a complete overhaul of your garage space, consider our polyaspartic flooring, one of the top garage upgrades in Tampa Bay, call us today to learn all the ways we can help boost your home's resale value.