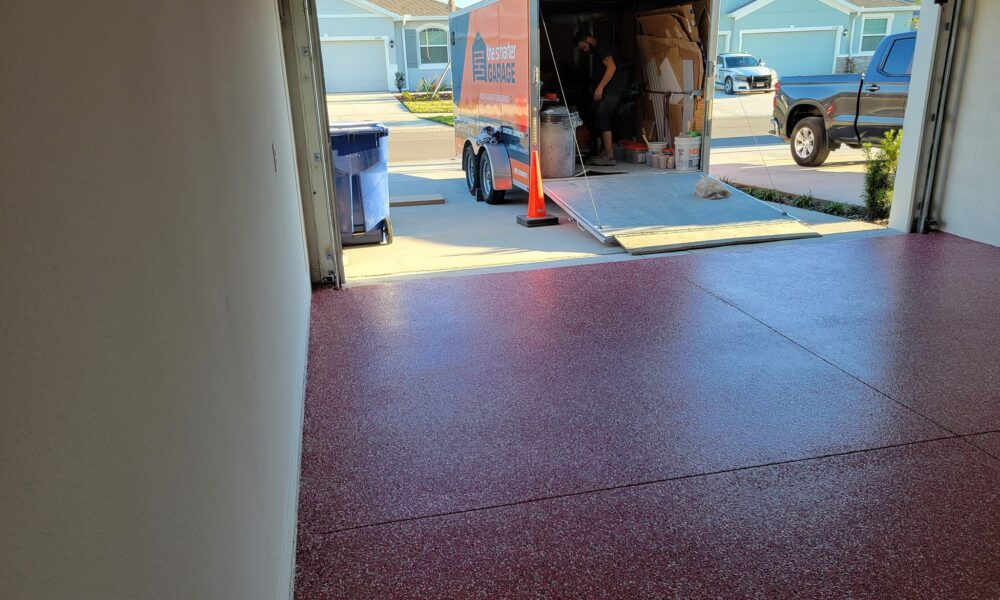 ‍
There are a lot of different types of garage flooring, and it's becoming easier than ever to choose the right type of floor for your home. As you are doing your research, you might be wondering what the difference is between epoxy floors and polyaspartic floors. Both types of floors bring benefits, but is one truly better than the other? Let's take a deeper look at the pros and cons of each.
POLYASPARTIC COATINGS
EPOXY CONCRETE COATINGS
Installation
1 Day
3+ Days
Dry Time
Hours
1 Day between each layer
UV Durability
Won't discolor in sunlight
Will yellow over time
Applications
Indoor and Outdoor
Indoor Only
Durability
Hard, flexible finish,
resistant to chipping,
craking, pealing, and abrasion
Hard, vulnerable to
chipping, cracking,
pealing, abrasion
Overall Strength
High
Low
DIY Installation
Not typically available
Home Improvement
Store, not recommended
Air Quality
Certified Low VOC, virtually no odor
High VOC, outgassing
can impact air quality
Price
More expensive
Less expensive
Epoxy Floors
Epoxy floors are a type of flooring that you apply over concrete substrates. It comes as a two-part liquid, a resin and a hardener, that you mix together and apply directly to your existing flooring in most cases. As the epoxy dries, it hardens and forms a strong, waterproof floor.
Epoxy is incredibly versatile in color and design options. You can add color and even metallic flakes to your epoxy mix as you apply it, or you can paint directly on the epoxy once it has dried and hardened. Some artistic homeowners have even created beautiful works of art directly on their floors!
While epoxy floors have been around for quite some time now, they're only recently becoming more common. One of the main benefits of epoxy floors is their resistance to water penetration and mold growth. It's also convenient that you can apply epoxy over almost any type of existing flooring, even concrete, tile, or wood.
Polyaspartic Floors
Polyaspartic is a coating similar to polyurethane. Like epoxy, polyaspartic flooring comes as a two-part liquid that is mixed and applied directly to your existing floor. It also allows for endless color options, but that is where the similarities end.
Though epoxy has been around for a very long time, polyaspartic flooring is relatively new. Originally developed in the 1990s, it was initially used as a coating for steel in bridges because of its corrosion-resistant properties. Today, polyaspartic is being used as a stronger, safer alternative to epoxy floors. With its clear glossy finish, this floor brings a wow factor to garages, workshops, and more.
What makes polyaspartic floors so appealing is their extremely quick drying time. These floors can be applied, dried, and cured significantly faster than their epoxy counterparts. Polyaspartic floors are also incredibly versatile. They can adapt to almost any surface and can be installed on almost any type of garage flooring. These floors are also very maintenance-friendly. As they are made up of plastic, they're able to clean up easily with any type of mop or broom. They're also able to withstand heavy foot traffic and withstand any type of stain or finish you choose to apply to them.
Which Type of Garage Flooring is Right for You?
If you're looking to replace an entire floor, polyaspartic flooring will usually be a better option than epoxy. It's a more durable and flexible option, making it a better fit for spaces with high traffic. Polyaspartic also has impressive resistance to stains and odors compared to epoxy flooring.
Despite polyaspartic flooring's many advantages, you might want to learn more about epoxy garage flooring so you can see the difference for yourself.
What to Consider About Epoxy Flooring?
Epoxy is a material that has a lot of positives associated with it, but there are also some things that you should be aware of before you decide to install it in your home. Let's take a look at some of the downsides of epoxy flooring so that you can make an informed decision before you start the installation process.
Yellowing- While your floor may look gorgeous initially, UV exposure can cause you're crystal clear floor to yellow and your colors to fade.
Temperature sensitivity- Epoxy can be tricky to apply because it requires mild temperatures to cure. Here in Florida, that could mean waiting weeks for the weather to cooperate before you can even begin installing your floors.
Potentially Dangerous Fumes – Inhaling epoxy dust can result in a variety of health problems. Large amounts of these dust particles can result in respiratory problems.
Expoxy Asthma – Yes, this is a real thing. Some people have allergic reactions to epoxy that result in breathing complications. It may also trigger asthma attacks.
Difficult Repairs – One of the biggest issues with epoxy flooring is that it's very hard to repair. Most companies won't accept any kind of damage claims, so if your flooring ever gets damaged, you'll be stuck with a big repair bill.
Long Installation Time – If you apply epoxy on your garage flooring, be aware that it can take three days or longer to finish the job.
Why Does Epoxy Floor Installation Take so Long?
Most of us don't want to clean out our entire garage and have belongings sit out for 3 days or longer. With random pop-up showers here in Florida, this is just asking for trouble. But why does epoxy floor installation take so long?
First, it takes a lot of time to prep concrete floors for epoxy. You may need to take a grinder to remove any old layers of paint or epoxy (be sure to connect the grinder to the vacuum and wear a mask to protect yourself from fumes!) You can rent a floor cleaner from Home Depot, but this will only add to the cost of your project.
Once applied, epoxy needs to sit for at least 24 hours. Then, another coating is applied which can take another day to cure.
Even then it's not guaranteed the epoxy will be ready to use. Depending on the temperature and weather conditions, it can take even longer. It is recommended that you wait at least 3 days to begin using your garage if you choose epoxy flooring.
Garage Flooring: Watch out for Fading
Living in Florida, we have a lot of exposure to the sun. This is not an ideal environment for epoxy flooring because it will fade from UV lighting. The last thing you want to happen is to invest in an epoxy garage floor to only have it quickly turn yellow.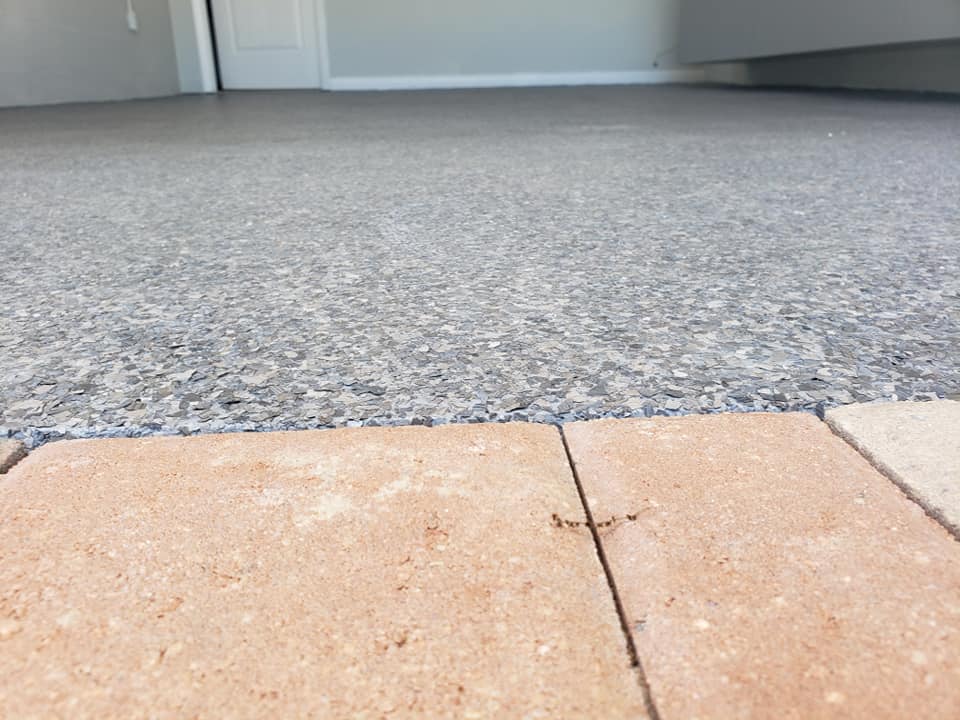 What to Consider About Polyaspartic Flooring
Now that you have some insight into the world of epoxy flooring, let's explore some of the differences with polyaspartic flooring.
What are the Advantages of Polyaspartic Flooring?
With polyaspartic flooring, you get a hard floor that is easy to clean and resistant to stains and dirt. It has a hard but flexible finish which makes it highly resistant to scratches and other cosmetic blemishes that take away from the beauty of your floor.
It comes in a wide range of colors, which is great for classic or modern homes. Imagine being able to select a color palette for your garage flooring that gives a nod to your favorite sports team. Nearly any color combination is possible with polyaspartic, including custom colors.
How Long Does Polyaspartic Garage Flooring Take to Install?
You already know that epoxy flooring takes days to install, but what about polyaspartic? One of the greatest advantages of choosing polyaspartic garage flooring is that it's ready in just 1 day. In fact, you can typically walk on the floor within 6 hours of application. It's also can be applied in almost any temperature, so no need to wait for the heatwave to pass.
Polyaspartic Does Not Fade
Designed for both indoor and outdoor use, you won't experience any fading problems with polyaspartic flooring. While your neighbors' epoxy floors turn yellow from UV exposure, you'll get to enjoy a bold and beautiful floor no matter how intense the sunlight becomes.
Polyaspartic is Not Harmful to Your Health
Perhaps one of the most important and notable aspects of polyaspartic flooring is how it affects your health. This type of flooring is low in VOCs, otherwise known as volatile organic compounds. It's also eligible to use forLEED compliance in ultra-green applications. This means that you won't need to worry about the issues that come along with epoxies such as asthma and other respiratory ailments.
Get Polyaspartic Garage Flooring from The Smarter Garage
If you want to install a new floor in your garage, you have plenty of options to choose from. One option that is gaining traction in recent years is polyaspartic garage flooring. This type of flooring is one of the best options for new flooring in your garage. It is durable, easy to maintain, and looks great. It also comes in a wide variety of styles and colors, making it easy to match your existing decor.
Contact The Smarter Garage today to learn more about polyaspartic garage flooring.