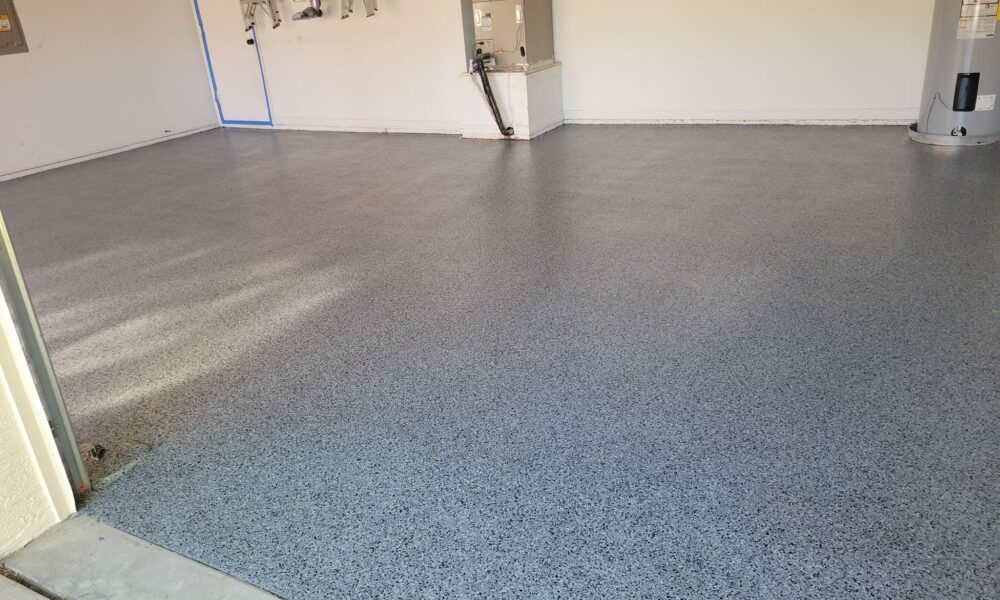 ‍All homeowners want the best for their properties, from the basement to the roof and the lawn to the garage. Who doesn't dream of a functional garage where all the tools are neatly arranged and stored? Some garages are large enough to accommodate a car or two, while others are just big enough for bikes and sports gear. Regardless of how you use your garage, polyaspartic garage flooring can make all the difference in its design and function.
Having a clean, well-organized, and accessible garage makes life more efficient. However, a well-maintained garage can also affect your property value. Like any other part of the house, a beautiful garage made with high-quality materials will increase the value of your home.
If you are looking for beautiful and durable garage flooring that stays within budget, you may want to consider polyaspartic flooring. Read on to discover what this flooring is all about and how it can improve your garage.
What is Polyaspartic Flooring?
Polyaspartic is a hybrid, non-toxic flooring that is similar to polyurethane. It is extremely durable and resistant to mold, heat, and chemicals. It is a relatively new flooring material, but it has quickly become a popular choice because it is easy to install and offers a hard-wearing surface. Furthermore, it's also a great choice for garage flooring as it is resistant to staining and wear.
Epoxy flooring has been around for years. Maybe your neighbor just applied epoxy to his garage floors and you were considering it yourself. Not so fast! Homeowners are increasingly choosing polyaspartic over epoxy garage flooring for the following reasons:
Polyaspartic offers the same hard glossy surface, but with increased flexibility which makes it more durable.
Epoxy must be applied in moderate temperatures to ensure that it cures correctly. This may leave you waiting out a heatwave before you can even begin the lengthy installation process. Polyaspartic flooring doesn't have these limitations. 
This means it can take 3 days or longer to apply and set. Your new polyaspartic flooring has a much faster drying time and can be ready for use in a few hours.
Polyaspartic flooring material is better for the environment. Epoxy creates off-gassing that can decrease air quality.
Both epoxy and polyaspartic floors look clear, glossy, and beautiful when they are first applied, but over time epoxy is prone to fading and yellowing from UV rays. Polyaspartic stays like-new for years to come.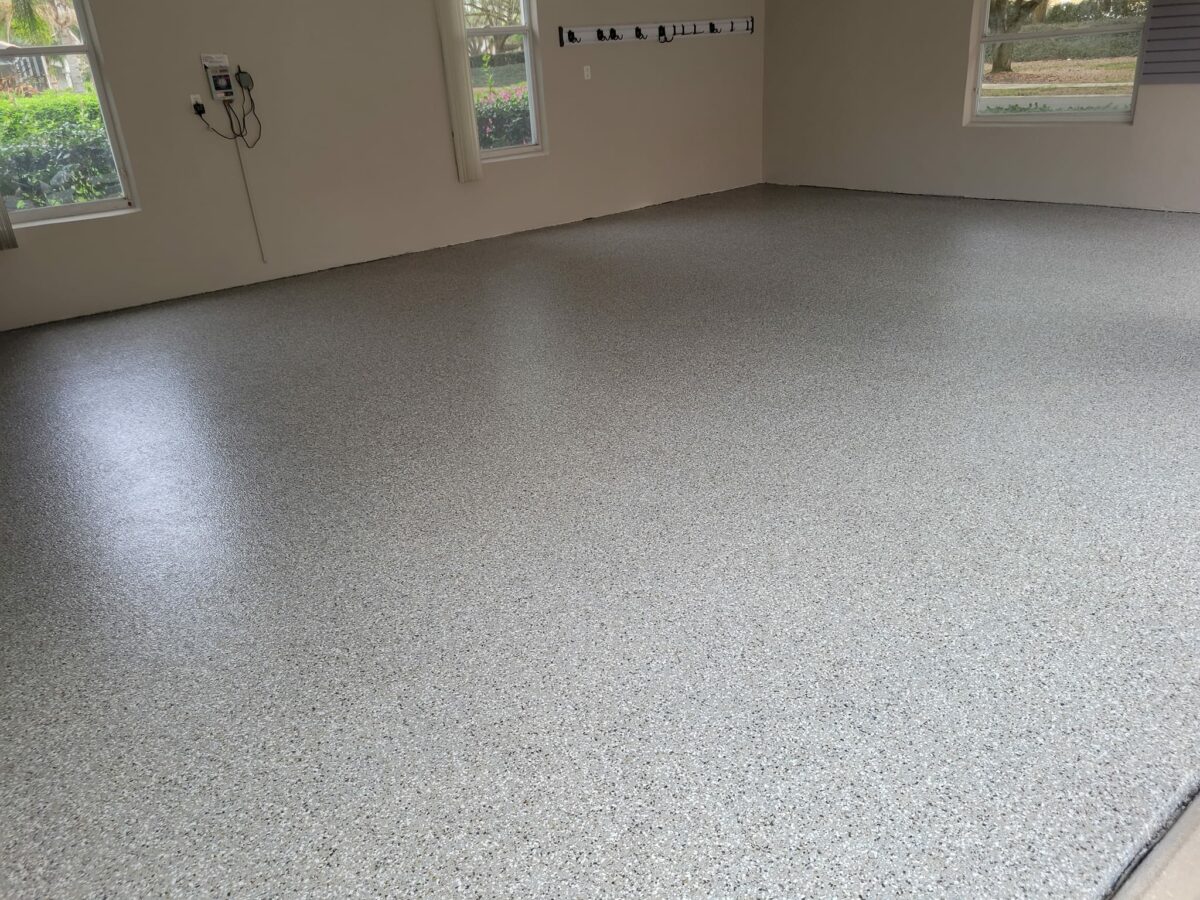 Polyaspartic Flooring is Fast to Install
Polyaspartic flooring is convenient. It's less sensitive to temperatures so it can be installed when you are ready for it, regardless of the weather outside. It also can be installed quickly, with a much shorter process than what you'll find with epoxy garage flooring.
Homeowners in the Greater Tampa Bay area choose polyaspartic flooring because it's one of the fastest types to install. The process to install epoxy takes several days, as you need to wait at least 24 hours for curing between each layer. When you take into consideration of the lengthy process of using a diamond grinder, primer, and various epoxy coatings, you could be looking at up to 4-5 days of install time.
You'll also need to have your belongings stored somewhere as you install epoxy flooring. Unless you want to spend money on a storage unit, this might mean that pricey tools or equipment sit out in your driveway for days. Considering the unexpected rainstorms that tend to pop up in Florida, this could lead to a big mess.
The beauty of polyaspartic is that you can be back to using your garage floor within hours of installation. While it's not advised to park your car on it that soon, you can typically walk on the polyaspartic without issue. This is a world of difference in comparison to epoxy.
Protects Your Garage Floor
Garages are meant to take a beating. This is where you work on cars and use power tools and store gardening supplies. Not to mention, no one wants to have to worry about damaging the floors. Polyaspartic flooring can stand up to heavy trucks, dropped tools, and sharp rakes without a dent, chip, scratch, or scuff. As a result, your floor will stay looking new longer.
Easy to Clean and Maintain
Although polyaspartics are quite a bit more durable than other flooring materials, they are not indestructible. It is important to take proper care of them to ensure they last as long as possible. 
Polyaspartics are a type of vinyl flooring, so they can be cleaned with the same methods you would use on other vinyl floors. Simply use a vacuum or broom to remove dust and dirt and a damp mop to clean the floor. Five ounces of clear ammonia per one gallon of water makes a great cleaning solution to enjoy the clean, eye-catching effect of polyaspartic garage flooring.
Pro tip: Clean up spills as you catch them. Polyaspartic flooring is stain-resistant, but allowing spills to sit too long on your garage floor will inevitably result in stains. This is true for almost all types of garage flooring materials.
Aesthetics: Many Colors to Choose from
Most garages are dark and dingy, making it a less-than-desirable place to spend time.
Replacing your old garage floor with a fresh, new polyaspartic floor can create a crisp, bright, and custom appearance. Polyaspartic flooring is available in a wide variety of colors to complement your existing interior. There are also custom color options and even metallic flecks available for polyaspartic flooring. This means that the sky is truly the limit in terms of your color selection.
Tint your floors to match your favorite sports teams or to complement that gorgeous hot rod that you have stored in there. Classic or bold, your garage will soon be the talk of the neighborhood.
Stain Resistant
Polyaspartic is ideal to use in garages because it is stain resistant and it can help to keep the garage floor looking clean with little time and maintenance. You won't have to worry every time a spill occurs, simply mop it up and move on with your life. The maintenance with polyaspartic is minimal, so you get to enjoy a stain-resistant garage floor without the hassle.
Safety for You and Your Family: No Harsh Chemicals
Did you know that epoxy flooring contains dangerous chemicals? Most people assume that epoxy floors are completely safe, but unfortunately, this isn't the case.
After an epoxy floor is installed and cured, toxic chemicals can trickle out over time. This is called off-gassing and it's a major health and safety concern. It can affect the overall air quality in your home and cause a variety of health issues ranging from headaches to hormone disruption, respiratory illness, and even cancer.
Luckily, this isn't the case with polyaspartic flooring. The material has virtually no Volatile Organic Compounds (VOCs). It is also low odor so it won't overwhelm your garage space after installation.
Get Polyaspartic Flooring from The Smarter Garage
Every homeowner would love to have a clean garage with stylish flooring, but no one wants to have to wait a week to use it, or constantly worry about drops and spills. Polyaspartic floors let you set it and forget it.
Enjoy glossy floors that are as gorgeous as they are durable- installed in one afternoon with virtually no maintenance other than an occasional mop.
If you want garage flooring that brings out the best in your garage space, contact The Smarter Garage. We're the leading source for polyaspartic garage flooring in the Tampa Bay area, coming with a 5-star rating on Google. We'll show you the many reasons why polyaspartic is a top choice for your garage. Contact us now to learn about color options, installation, and more.