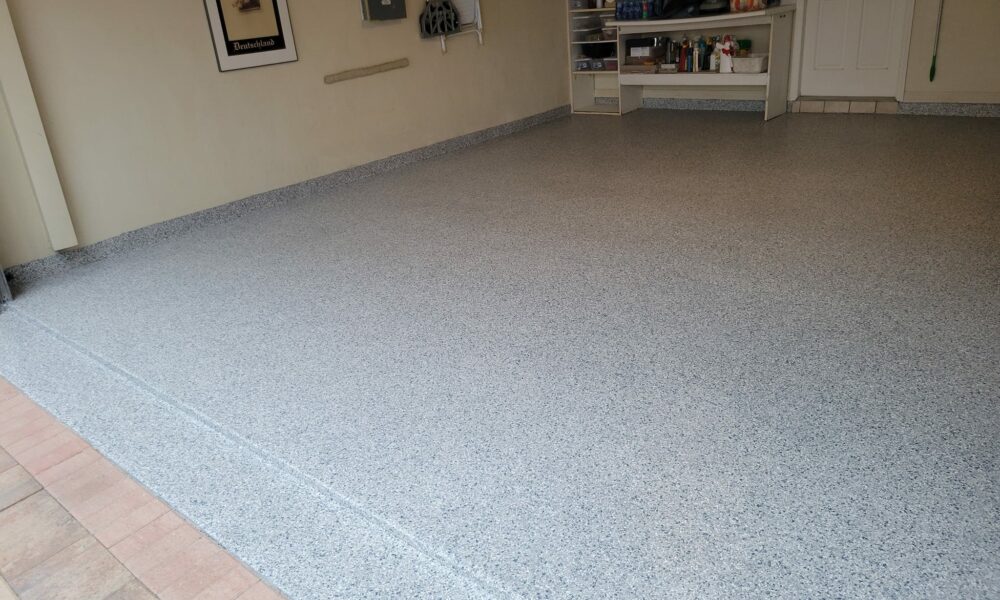 Choosing the right flooring for your garage can be an overwhelming task. With so many different garage flooring materials to choose from, you're likely wondering how to make the best selection for style as well as function.
Finding the perfect garage flooring is easier than you think. Keep reading to learn more about the various types of flooring available, and how to choose the right one for your space.
Overview: Types of Garage Flooring
There are several types of garage flooring on the market. Each comes with unique advantages and disadvantages, so it's important to understand your flooring before making a final decision.
Vinyl Garage Flooring- Pros: Available in a wide range of colors, vinyl garage flooring is a versatile and cost-effective choice. It's easy to clean, doesn't require sealing, and is stain-resistant. Cons: it has a relatively short lifespan, is vulnerable to tears, and can be difficult to repair.
Rubber Tile – Pros: Rubber tile is highly durable, comfortable, and offers exceptional sound insulation. It's also resistant to oil, gasoline, and solvents, making it easy to clean. Cons: Water can seep between tile seams and there are fewer style options than some other types of flooring.
Polished Concrete Garage Flooring- Pros: This type of flooring has a smooth and consistent texture. It's highly durable, waterproof, and resistant to cracks. It's also maintenance-free and is easy to seal and clean. Cons: Without shock and sound absorption it can be loud and uncomfortable to stand on for long periods of time.
Stone Garage Flooring- Pros: This type of flooring is natural, classy, and beautiful. Cons: it can be pricey and difficult to clean and maintain. It's also quite expensive.
Polyaspartic – Pros: A trowel-free alternative to concrete, polyaspartic garage flooring does not require sealing. It's easy to clean and refinish and it comes in a great selection of colors.
Let's explore these garage flooring options a little deeper. This blog shows different options for garage flooring along with pros and cons.
Vinyl Garage Flooring
Vinyl is a great cost-effective flooring option for your garage because it is easy to install, clean, and maintain.
Available in rolls, interlocking floor planks, or peel-and-stick tile squares, vinyl flooring can easily be installed directly over your existing concrete floors. It resists slips, stains, and chemicals. This is important in garages that are vulnerable to oil spills or puddles from wet tires.
Vinyl comes in a wide variety of colors, styles, and patterns. You can choose from a wide range of designs, or you can also select custom patterns to create a truly personalized space.
While vinyl can stand up to some heavy foot traffic, it can be gouged or ripped. For example, if you drop a sharp tool on vinyl flooring it might cause damage. It also doesn't last as long, even under the best circumstances. Although you save some money upfront with vinyl garage flooring, you may spend more over its lifetime.
Consider the type of vinyl flooring that your choose. Vinyl rolls are more water-resistant than tiles or planks. However, they are more difficult to repair if they are damaged since the entire surface would need to be replaced.
Rubber Tile Garage Flooring
Rubber tile is a great flooring for your garage because it's extremely durable, easy to clean, and simple to install yourself. Although it's slightly pricier than vinyl, it will withstand the wear and tear of heavy use and last for longer.
The biggest benefit of rubber tile is that it absorbs impact and minimizes sound. This makes it perfect for people who use their garage as a weight room or workshop with power tools. It's great for heavy or noisy vehicles and it's comfortable even if you spend a lot of time laying on the ground working under your cars.
Although there are far more attractive color options than ever before, there aren't as many style choices as vinyl or polyaspartic. However, if you value function over aesthetics this is a great material for your garage.
Keep in mind that while rubber tiles are individually waterproof, the interlocking seams may be vulnerable to moisture seeping into the subfloor so if you anticipate a lot of spills or moisture, opting for a sheet or roll of rubber flooring may be a better choice.
Polished Concrete Garage Flooring
Polished concrete flooring is extremely durable, even under high-pressure heavy use. It is highly resistant to chips and scratches and can last a lifetime if properly installed and sealed.
Although polished concrete may cost a little more to install initially, it lasts far longer than vinyl or rubber flooring, making the overall savings quite significant.
When properly sealed, polished concrete can be waterproof, slip-resistant, and impervious to chemicals, so be sure to have it installed by a knowledgeable company.
Unlike rubber flooring, polished concrete floors are hard and cold and they don't absorb sound. Keep this in mind if you spend long hours working in your garage or if your garage is attached to your home and you don't want to disturb the rest of the family.
Stone Garage Flooring Pros and Cons
Whether it's cut from slabs of natural stone such as marble, granite, or travertine, or comprised of smooth epoxied pebbles this type of flooring is one of the most beautiful options for your garage. It gives a sleek, high-end look to your space and can withstand heavy foot traffic.
However, stone flooring is one of the more expensive flooring options. It also requires professional installation and can be tedious to clean and maintain.
Pebbled flooring can gather grease and grime into its crevices and stone slab can be vulnerable to chips, cracks, scratches, and stains.
If you're simply looking for a beautiful place to park your car, stone flooring is an excellent choice, but if you use your garage for more industrial endeavors, you may be better off choosing something more durable and easy to maintain.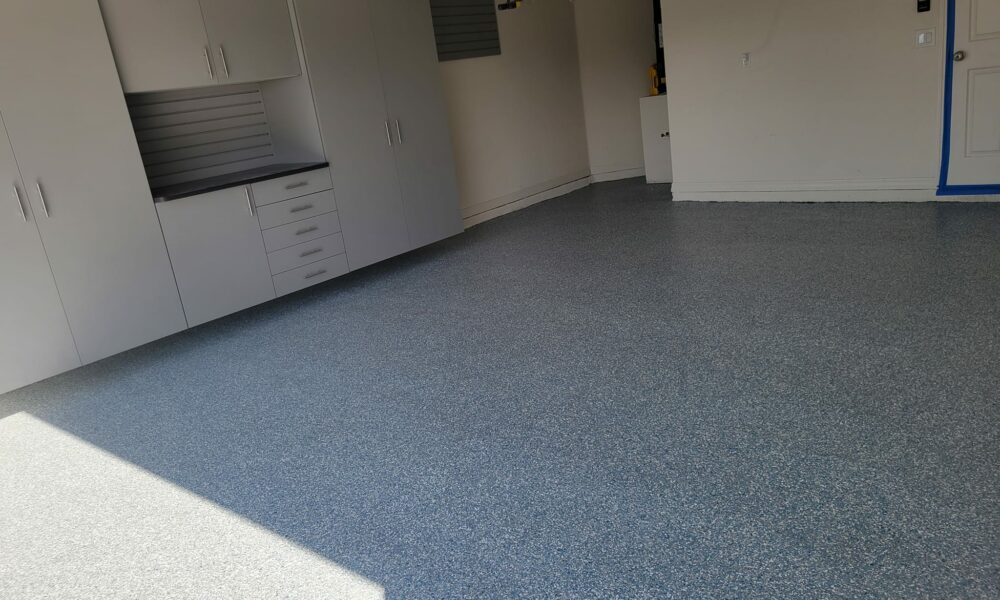 Polyaspartic Garage Flooring: The Best choice for Garages in Tampa Bay & Surrounding Areas
If you are looking for garage flooring options that bring tremendous benefits and nearly zero disadvantages, consider polyaspartic flooring. This type of garage flooring is highly durable and does not require sealing, so your new floor will be ready to use quickly. After all, who wants to wait to use their brand new (and beautiful!) garage floor?
Working with a professional garage flooring company like The Smarter Garage is the best option. This ensures that your garage will have a smooth even coating with supreme durability that can last for decades.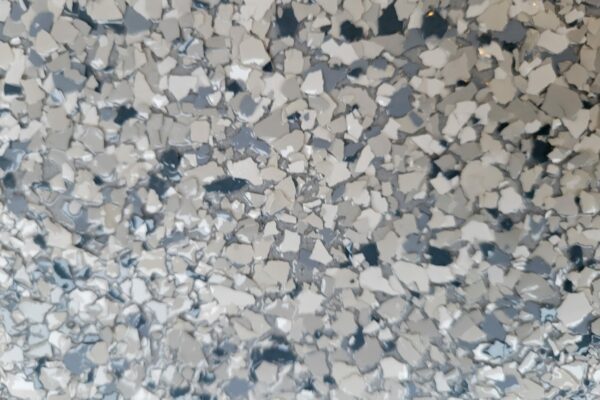 One of the most impressive aspects of polyaspartic flooring is the color selection. Unlike stone flooring, there is truly a rainbow of colors and patterns available including metallics and color flakes.
For example, imagine matching your garage floor to the color palette of your favorite sports team. Not only will this improve the appearance of your garage, but it will also make it a truly custom experience every time you step inside.
Polyaspartic is incredibly durable, so it is ideal if you want a garage you can use for everything. It resists impacts, chipping, chemicals, stains, and scratches. This means it can withstand heavy traffic in the area and withstand the wear and tear from vehicles parking on it. Best of all, it's anti-slip, anti-static, and prevents mold and mildew growth.
If you need new garage flooring, polyaspartic floors are the smart way to enhance the style and function of your garage in a snap.
Get Your Polyaspartic Garage Flooring from The Smarter Garage
There are many different types of flooring you can choose from when it comes to your garage. However, it's important to keep in mind that not all flooring is created equal in terms of price, style, and durability. Consider what types of activities you use your garage for, as well as how much time and money you are willing to invest in it.
If you can't decide the best type of garage flooring for your home, The Smarter Garage can help. We provide popular polyaspartic floors with more colors than you can imagine. You can also create a custom look that will wow your friends and gives you the personalized space of your dreams.