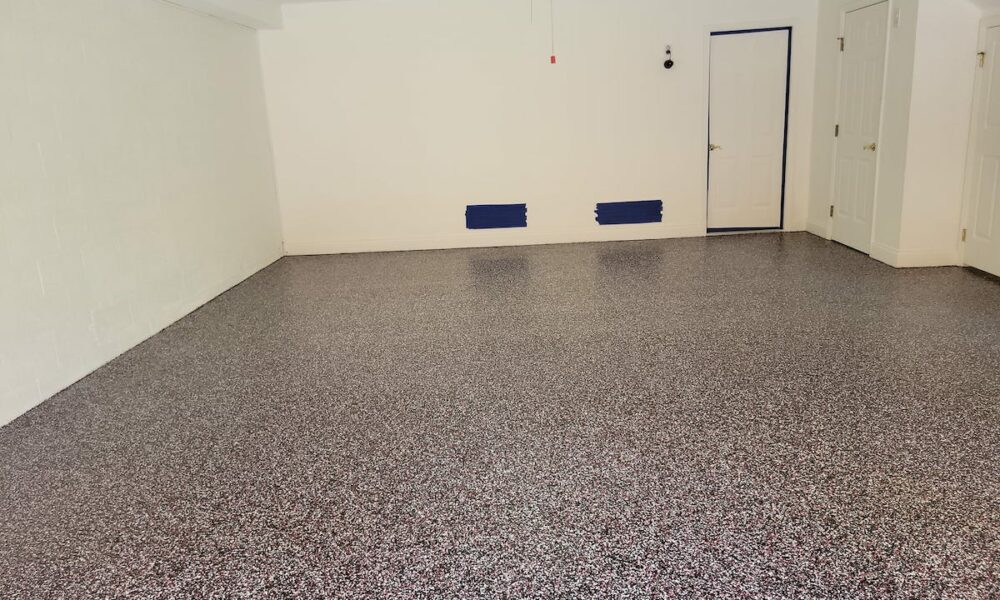 Garage flooring is an important aspect of any garage as it provides a durable and functional surface for vehicles, equipment, and storage. A well-designed garage floor can also enhance the appearance of the garage and add value to the home. With various styles and designs available, homeowners can choose a garage floor that complements their personal style and the overall aesthetic of their home. In addition, a well-maintained garage floor can prevent slips and falls and protect against damage from chemicals and stains.
Your choice of garage flooring comes in a range of styles and designs to suit different needs and preferences. Some popular options include solid color and patterns. When you want to polish the look of your garage, polyaspartic is the best way to get the look you desire.
The Benefits of Polyspartic Garage Flooring
Polyspartic garage flooring is a type of coating that is applied to the concrete floor of a garage. It is a highly durable and chemical-resistant option that is ideal for high-traffic areas. Polyspartic flooring differs from other options like epoxy flooring because it cures much faster, making it a great choice for homeowners who want to get back to using their garage quickly.
Here are some advantages of choosing polyspartic garage flooring:
Highly durable and long-lasting
Resistant to stains, chemicals, and UV rays
Low maintenance, easy to clean and maintain
Fast curing time, making it a quick and efficient option
Highly customizable, with a range of colors and designs available
Provides a non-slip surface, enhancing safety in the garage
Can be applied to both new and existing concrete floors
Enhances the overall appearance of the garage, increasing home value
Resistant to hot tire marks, making it ideal for parking vehicles
Polyspartic Garage Flooring Styles and Designs
Polyspartic garage flooring is available in a variety of styles and designs, making it a highly customizable option. Metallic styles feature a unique, shimmering appearance, while quartz styles offer a textured look. Solid colors are available in a wide range of hues, allowing homeowners to choose the perfect shade to match their home's aesthetic.
Keep in mind that The Smarter Garage offers custom designs, allowing homeowners to create a truly unique garage floor.
How to Choose the Right Polyspartic Garage Flooring Design
When choosing a design for your polyspartic garage flooring, consider the style and color scheme of your garage. A metallic style may complement a modern or industrial-style garage, while a quartz or solid color style may be a better fit for a more traditional or classic garage. Additionally, consider the intended use of the garage – if it will be used primarily for parking vehicles, a solid color or quartz style may be more practical, while a metallic style may be better suited for a garage used for entertaining or as a workspace.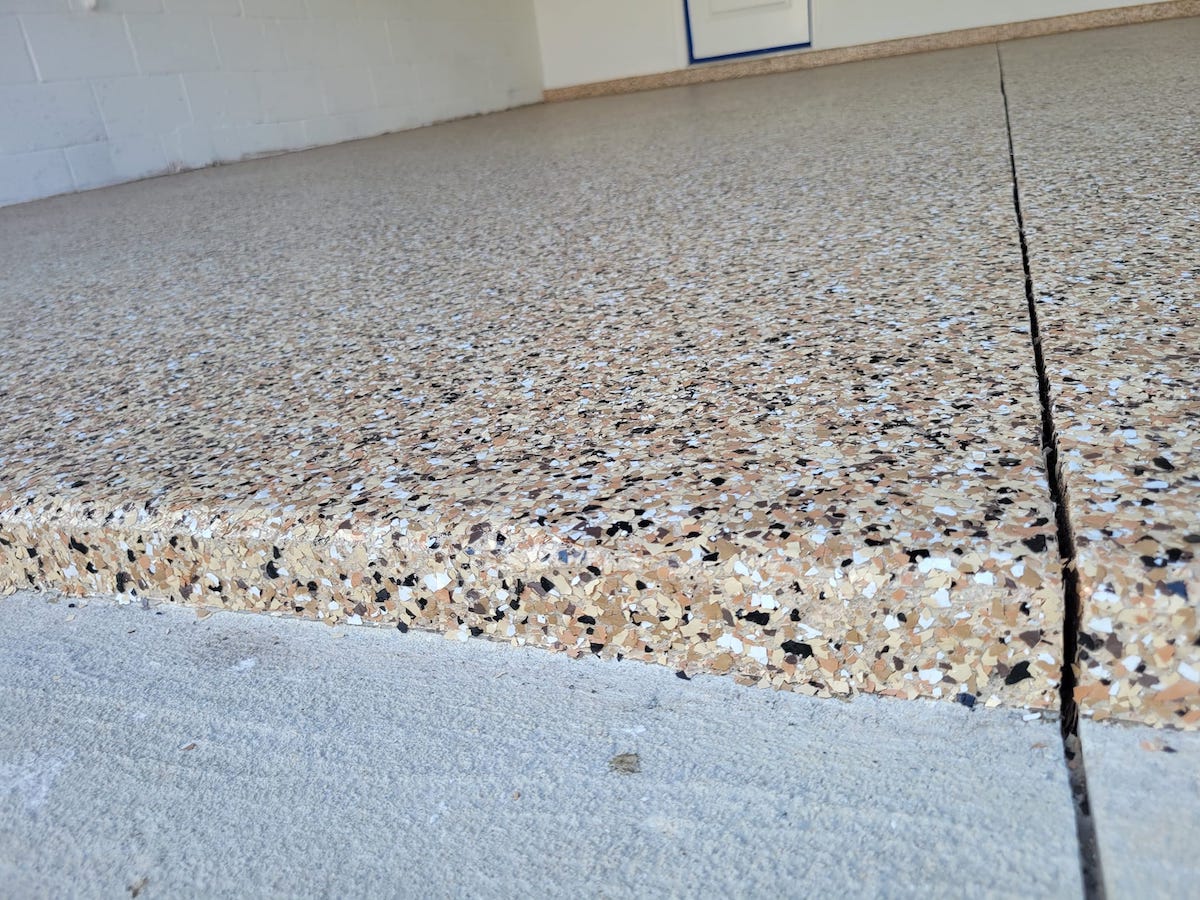 Installation and Maintenance of Polyspartic Garage Flooring
The installation process for polyspartic garage flooring typically begins with surface preparation, which involves cleaning and etching the concrete floor to ensure proper adhesion. Next, any cracks or imperfections are repaired, and the base coat is applied. Once the base coat has dried, the desired color or design is applied, and a topcoat is added for additional durability and protection. The entire process can typically be completed in just one day, and the floor can be walked on within a few hours of installation.
Here are some tips for maintaining and cleaning polyaspartic flooring to ensure its longevity:
Regularly sweep or vacuum the floor to remove dirt and debris.
Clean up spills and stains as soon as possible to prevent them from setting in.
Use a pH-neutral cleaner and a soft-bristled brush or mop to clean the floor.
Avoid using harsh chemicals or abrasive cleaning tools that could damage the floor.
Rinse the floor thoroughly after cleaning to remove any leftover cleaner or residue.
Consider placing mats or rugs in high-traffic areas to protect the floor from wear and tear.
Why Should You Avoid Epoxy to Improve the Look of Your Garage?
When it comes to garage flooring, there are a lot of options available. Two of the most popular choices are epoxy and polyaspartic coatings. While both offer a durable and attractive finish, there are some key differences between the two. In this blog post, we'll take a closer look at why polyaspartic flooring is the better choice for the appearance of your garage and more.
Appearance: Epoxy vs. Polyaspartic
First, let's talk about the appearance. While epoxy coatings can certainly look great, they have some limitations when it comes to customization. Epoxy coatings are typically available in a limited range of colors and designs. No matter what color floor you are dreaming about for your garage, polyaspartic can bring your vision to life.
The truth is that polyaspartic offers a much wider range of color and design options. You can customize the floors with decorative chips or flakes for added texture and visual interest. Plus, if you ever want to change the look of your floor, The Smarter Garage can help you apply a new coat.
Polyaspartic is Incredibly Durable
Another area where polyaspartic flooring outshines epoxy is in its durability. Polyaspartic coatings are up to four times stronger than epoxy coatings, making them more resistant to scratches, chips, and other damage. They are also more flexible than epoxy, which means they are less likely to crack or peel over time. This durability makes polyaspartic flooring an ideal choice for high-traffic areas like garages, where heavy equipment, tools, and vehicles can take a toll on the floor.
Get a Beautiful and Practical Garage Floor with Polyaspartic
Polyaspartic coatings also offer some practical advantages over epoxy. For one thing, they cure much faster than epoxy, which means you can walk or drive on the floor just a few hours after it is installed. With epoxy, you typically have to wait several days before the floor is fully cured. Furthermore,, polyaspartic coatings are more resistant to UV light than epoxy, which means they are less likely to yellow or fade over time.
Finally, let's talk about maintenance. Both epoxy and polyaspartic coatings are easy to clean and maintain, but polyaspartic coatings have one key advantage: they are more resistant to hot tire pickup. Hot tire pickup occurs when hot tires leave marks or stains on the floor.. Polyaspartic coatings, however, are much more resistant to this type of damage, which means you won't have to worry about unsightly tire marks on your garage floor.
While epoxy coatings are a popular choice for garage flooring, they have some limitations in terms of appearance, durability, and maintenance. Polyaspartic coatings offer a wider range of color and design options, greater durability and flexibility, faster curing times, and better resistance to hot tire pickup. If you want a garage floor that looks great and will stand up to years of heavy use, polyaspartic flooring is the way to go.
Find Custom Garage Floor Design from The Smarter Garage
If you're a homeowner in Tampa Bay looking for a high-quality polyaspartic garage floor installation, look no further than The Smarter Garage. Here are four great reasons why:
Expertise: The Smarter Garage has years of experience installing polyaspartic garage floors
Quality: We use top-quality materials and equipment to ensure that your garage floor looks great and lasts for years to come.
Customization: The Smarter Garage offers a wide range of color and design options, so you can customize your garage floor to your exact specifications.
Customer Service: Tired of poor customer service from other garage flooring companies? We committed to providing exceptional customer service, from the initial consultation to the final installation. We work hard to ensure that you are completely satisfied with your new garage floor.
Ready to get started? Contact us at The Smarter Garage today.