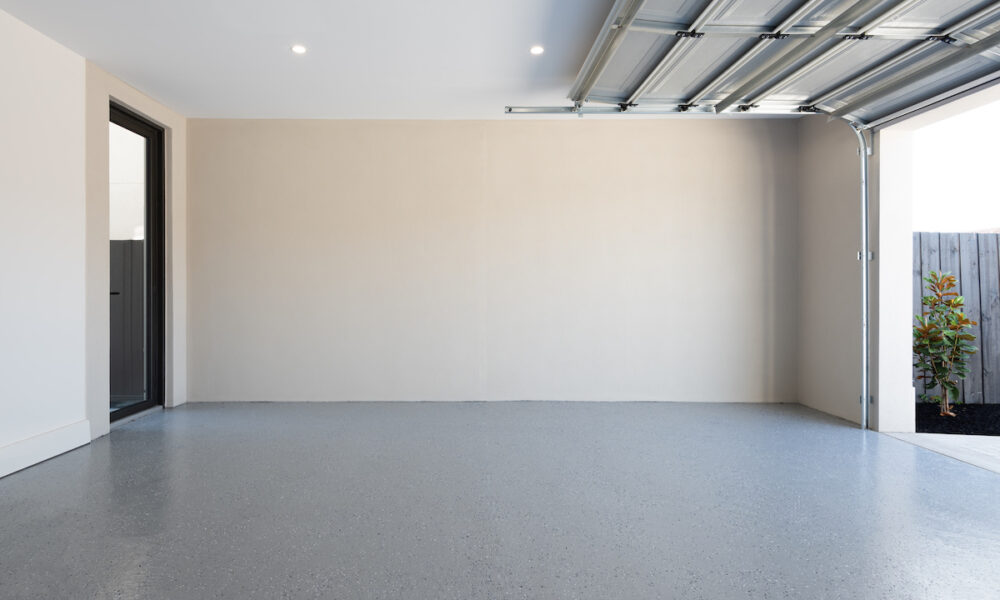 New garage flooring is an investment. But choosing the wrong floor can result in wasting time and money. From maintenance upkeep to repairs, no one wants to spend unnecessary money on their garage floor. The good news is you can avoid wasting time and money by choosing the right floor for your lifestyle.
As with any renovation project, you'll need to think about your options carefully before making a decision. But these tips can help you make the best decision to increase the lifespan of your garage floor.
Consider the Best Garage Flooring Material
The first step in choosing the best garage flooring is to decide on the type of flooring material. In most cases, concrete is the go-to choice for your garage, but there are other materials you might want to consider too.
Concrete Garage Floors
Concrete is a great option for garages, thanks to its low cost, strength, and ease of installation. However, it's important to seal your concrete before installing flooring. This will prevent it from absorbing oils from foot traffic and staining. This is especially important if you are using a garage to store car parts.
However, concrete is a high-maintenance garage flooring material. It must be sealed every two years to maintain its appearance and protection from the elements. Concrete garage floors must also be level to prevent issues with uneven floors.
Furthermore, concrete is a very heavy material and requires a forklift to be delivered to your site. It's a good idea to hire a contractor with experience in installing concrete flooring for your garage to avoid issues with uneven floors that can lead to problems with its durability.
Wood Garage Flooring
Do garages have wood flooring? Some do! If you want a rustic look, or you just love the smell of wood, then a wooden garage floor is a great option. It has a natural ability to repel water and can even help reduce the risk of a fire. Unfortunately, however, it is also one of the most expensive garage flooring options. It is also not a great idea if you are looking for an eco-friendly garage flooring option.
Rubber Garage Flooring
Rubber garage flooring is a popular choice for garages with heavy foot traffic. When installed correctly, rubber garage flooring can last for decades and withstand repairs. It is also easy to clean, can be installed over concrete, and comes with a range of styles and colors.
As with any garage flooring material, rubber has some downsides:
It's more expensive than most other garage floor materials
It's not as easy to install as polyaspartic
Rubber garage floors can be very slippery, so they're not the best option if you park cars in your garage.
Many homeowners install non-slip mats in their garage to prevent slips and falls.
As with all garage flooring, rubber requires regular maintenance to keep it looking good and functioning optimally. You'll need to sweep your garage floor regularly to keep it tidy. You might also want to consider a garage floor mat if you park your car in the garage.
Polyaspartic Garage Flooring
Looking for the best investment for a new garage floor? Consider polyaspartic. This type of flooring will last several times longer than regular epoxy flooring. It is also easier to maintain, with no need for regular sealing. 
Polyaspartic flooring is also slip-resistant, making it a safer option for garages. It is easy to clean, with no need for regular mopping. These floors are also extremely easy to install, with no complex mixing or curing process required.
Best of all, The Smarter Garage can do all the work for you!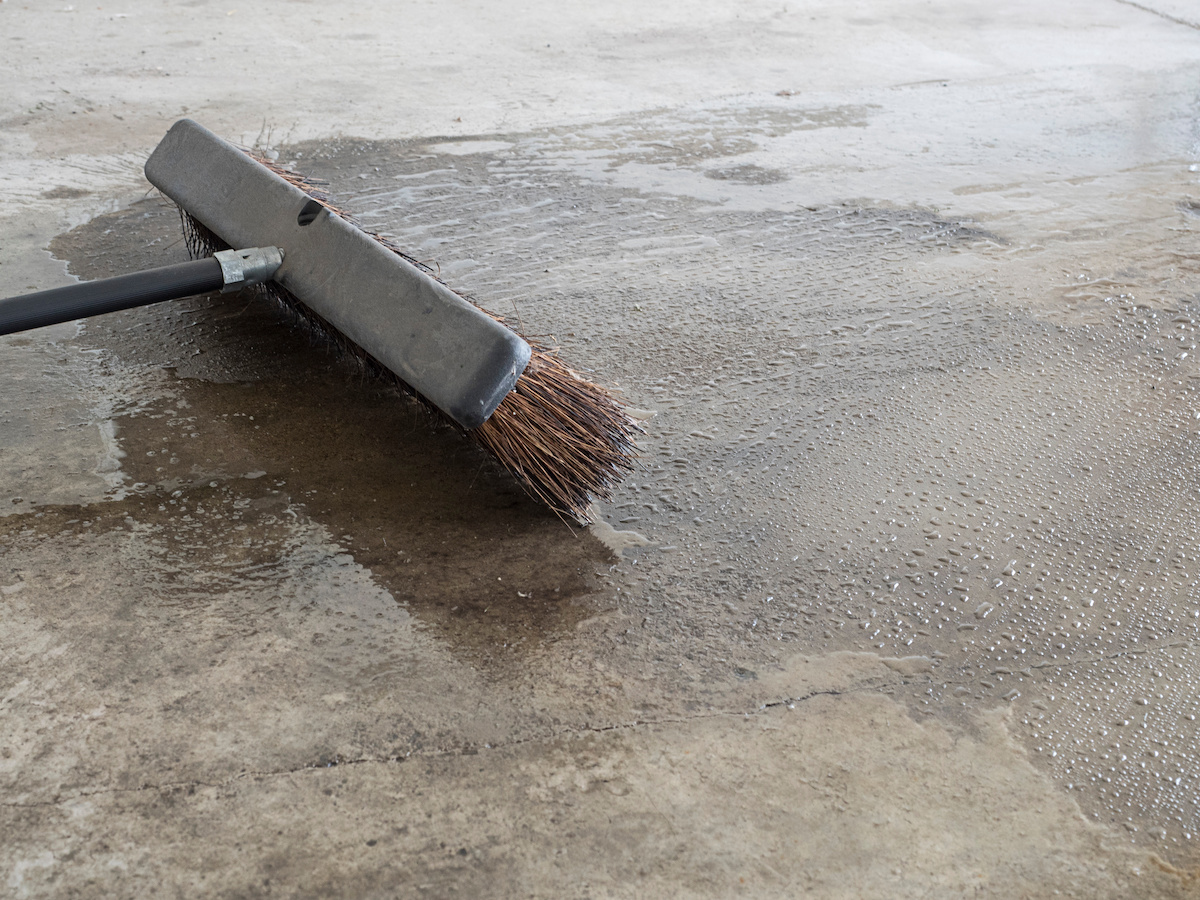 Choose Garage Flooring that's Easy to Maintain
If you want to save money and time on your garage flooring you need to find a material that is easy to maintain. Concrete is great for strength and aesthetics but it's also a nightmare to keep clean. Wood is often hard to clean and maintain, as is rubber.
You also need to think about what happens when damage occurs to your flooring. How easy it is to repair?
Meanwhile, polyaspartic is a durable coating that is easy to clean and maintain. When you want to make a mess in your garage without working about your floor, consider polyaspartic.
Choose Garage Flooring that's Easy to Clean
Garages are usually full of oil and grease from cars and bikes. You need to make sure that your garage flooring is easy to clean and doesn't absorb these oils.
Polyaspartic is an excellent choice because it's easy to clean and doesn't absorb oils. It's also very easy to clean with a daily mop and a bucket of water. You can even buy specialized cleaners that are designed to remove stains and grime from the surface.
Furthermore, polyaspartic is slip-resistant. When you clean it with water, you won't have to tread carefully until it dries. It will provide some traction even when it's wet.
Consider Durable Floors
If you are looking for floors that are going to last a long time, then you need to find a durable garage flooring.
Concrete is durable but also requires a lot of maintenance. If it cracks, there is a lot of work to make repairs. Meanwhile, rubber garage flooring is durable but also requires a lot of maintenance. Polyaspartic garage flooring is durable, easy to clean, and easy to maintain.
There are many styles of polyaspartic flooring available. You can select a color that matches your budget, and needs.
Polyaspartic is an excellent choice for high-traffic areas thanks to its durability. When installed correctly, polyaspartic garage flooring can last for decades and can even be repaired.
Polyaspartic Floors Come in a Huge Variety of Colors
If you love the idea of polyaspartic garage flooring and a stylish garage, you're in luck. Polyaspartic is only available in a tremendous selection of colors.
Furthermore, you can customize a polyaspartic garage flooring color to match your style. By working with The Smarter Garage, you'll have a garage floor that matches your home or garage perfectly. We can even create a color palette to match your favorite sports team!
Bright, bold colors will make any garage look modern and stylish. Choose a neutral color to blend in with your garage door or roof tiles so they are less noticeable. Neutral colors will also keep your garage looking clean and tidy.
Use These Hacks to Build Your Dream Garage in Tampa Bay
Garage flooring is one of the most important aspects of a garage. It's the foundation the rest of your garage is built on, so it's important that you get it right. This product can help you create the garage of your dreams.
There are many different types of garage flooring to choose from, and polyaspartic is one of the most popular picks in Tampa Bay, FL. There are many different factors to consider when picking a garage floor, such as cost, maintenance, ease of cleaning, and durability.
When you take all of these factors into consideration, polyaspartic garage flooring is the best choice for most people. If you want a garage that is functional, stylish, and customizable, then you needflooring that is long-lasting, easy to clean, and easy to maintain.
Ready to get started on designing your dream garage? The Smarter Garage is here to help. Our polyaspartic product is an A+ upgrade for nearly any home. Contact us today to learn more.