The Smarter

Garage Flooring

If you have been thinking of things that you can do in your garage in order to make the space feel clean and useful, then perhaps you should consider enhancing the floor of your garage. Covering the floor of your garage with a durable, long-lasting material can greatly enhance the floor's practicality, durability, and appearance. The professionals from The Smarter Garage LLC have a few ideas for your garage floor that you may wish to consider. We have the materials available for you to choose from and we can install your new garage flooring for you, anytime you are ready to make this significant transformation.

Garage Flooring That Can Enhance Your Garage Unlike Anything Else

Our professional team recommends a garage floor coating called Polyaspartic Chip Flooring that is one garage floor finish that you may wish to consider. The Polyaspartic Chip floor system has been available to consumers since the early 1990's. It increases the garage floor's usefulness, hardiness, and physical appearance. This system is known as an aliphatic polyurea compound that is very durable, and is considered superior to other garage flooring options, such as epoxy flooring, that has been available in prior years.

The Polyaspartic Chip flooring system is very popular for many reasons. This option is available in many different colors, so you can easily customize your new floor to suit your personal taste and the purpose for your garage space. It is a product that is installed quickly and can be installed in warm weather or cool weather.
Benefits of Polyaspartic Chip Flooring
Highly Attractive

Customizable

Easy to Maintain and Clean

Heat Tolerant

Fade Resistant

Provides Great Traction

Quick Installation
If you would like to learn more about the Polyaspartic Chip flooring system, then please contact the garage experts from The Smarter Garage LLC today. We gladly offer free estimates for any potential project, and we welcome the chance to discuss garage flooring options with you. We pride ourselves on working closely with each customer, in order to devise a plan that is suitable for your specific purposes and needs for your garage space. We look forward to hearing from you anytime!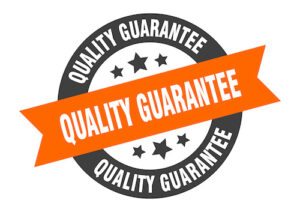 Limited
Lifetime Warranty
The Smarter Garage is pleased to offer a Limited Lifetime Warranty on our Polyaspartic Floor Coatings designed to cover defects in material and workmanship including installation. The warranty duration extends for as long as the original purchaser owns the property and coverage begins the moment The Smarter Garage has completed the work.
Defects
Covered

Under Warranty
Abnormal yellowing, fading or discoloration of the clear top coat stemming from standard use
Peeling, chipping, flaking or delamination of the clear top coat under normal use
Material and labor costs involved with repairs covered under the warranty
Items
Not

Covered

Under Warranty
Limitations
THE SMARTER GARAGE LLC DOES NOT WARRANT THAT THE COATING SYSTEM WILL CREATE A SLIP RESISTANT SURFACE. THE SURFACE MAY BECOME SLIPPERY UNDER CERTAIN CONDITIONS INCLUDING BUT NOT LIMITED TO EXPOSURE TO WET, OILY OR GREASY CONDITIONS. THE SMARTER GARAGE LLC SHALL NOT BE RESPONSIBLE FOR INJURY INCURRED IN A SLIP, FALL OR TRIPPING OCCURRENCE. THE PROPERTY OWNER IS RESPONSIBLE TO PROVIDE FOR THEIR OWN SAFETY AND THE SAFETY OF THEIR GUESTS.
WARRANTY COVERAGE DOES NOT AUTOMATICALLY INCLUDE REMOVAL OR RE-COATING OF THE ENTIRE FLOOR UNLESS SPOT REPAIR IS DEEMED INSUFFICIENT AS DETERMINED BY A REPRESENTATION OF THE SMARTER GARAGE LLC. AREAS REPAIRED UNDER WARRANTY COULD VARY IN COLOR AND TEXTURE AS COMPARED TO THE ORIGINAL INSTALLATION.
We Make the Process Easy
Step 1
Contact us and one of our friendly team members will promptly follow up with you
Step 2
We will schedule a consultation to review your space and discuss your needs on a day and time that works for you
Step 3
We will schedule your job and complete the installation guaranteeing 100% satisfaction
Testimonials
The estimate was done in
a very professional manner, as was
the work. I would use them again
without question.
Roger Stevens
– Tampa, FL
Garage Flooring