The Smarter

Garage Cabinets

People have many different uses for their garage areas. Some people have large families, and they use their garage space to store family toys and games, bulk item foods and home essentials, art projects and supplies, and so on. Others may use their garage as a work place, and find they have quite a collection of tools, paint, power equipment, and other things like that. Perhaps you have a small business and use your garage space as a place to store the things that you sell or the products you need in order to create a successful business.

Whatever your purpose is for your garage, one thing is for certain; that is that a better organized garage allows you the ability to locate things easily, know exactly what you have available, and provides for a highly-functioning space for you to enjoy. If you are interested in learning about the garage cabinet and shelving services provided by a professional group that knows what they are doing, then please contact The Smarter Garage LLC today!

The employees at The Smarter Garage have advanced training and experience that allows us to understand the needs and goals of our customers, and enables us to provide storage solutions that will work for each person's purpose. We have access to some of the most creative products available, as well as unique ideas about the best way to manage your space and your belongings. We are equipped to install all types and sizes of garage cabinets, that will help you organize and use your garage space optimally.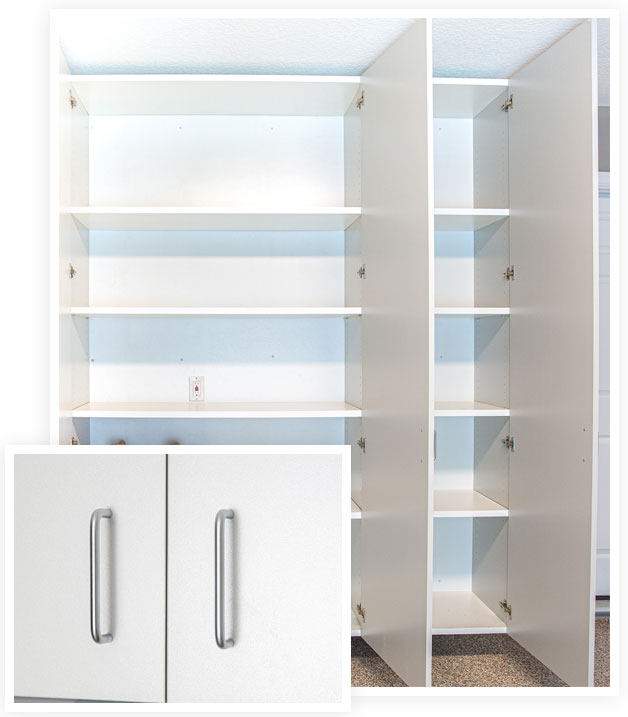 Benefits of Garage Cabinets and Garage Shelves
Durable Storage Place
Provides Clean and Organized Garage Look
Safe Space for Tools, Paints, Cleaners, etc.
Lockable Cabinet Doors
Clears Up Floor Space
The Smarter Garage professionals offer free consultations for garage cabinets and garage shelving services, as well as professional installation services.
We Make the Process Easy
Step 1
Contact us and one of our friendly team members will promptly follow up with you
Step 2
We will schedule a consultation to review your space and discuss your needs on a day and time that works for you
Step 3
We will schedule your job and complete the installation guaranteeing 100% satisfaction
Testimonials
The estimate was done in
a very professional manner, as was
the work. I would use them again
without question.
Roger Stevens
– Tampa, FL
Garage Cabinets